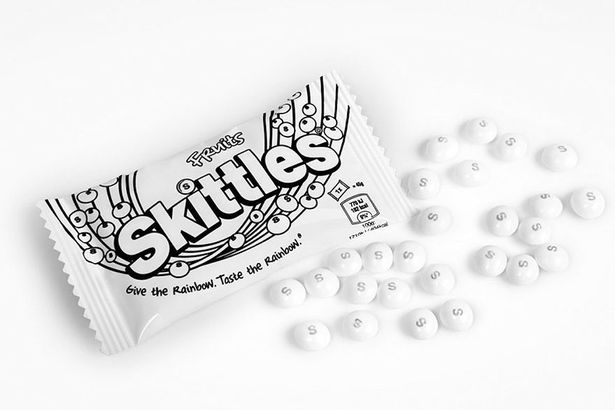 In honour of Pride Month, Skittles have ditched their signature rainbow colours and have instead opted for a more monochrome look.
The black and white sweets are displayed alongside the brand's message: "During Pride, only one rainbow matters. So, we've given up ours to show our support".
Parent company, Wrigley, said that since the Skittles brand and the LGBT community both share the rainbow as a symbol, "Skittles has again given up its rainbow colours in order for Pride's rainbow to take centre stage".
So Skittles made white Skittles to show how important the rainbow is during Pride month.

You're up, M&Ms!! pic.twitter.com/BEiOphvHDF

— Katy (@kate_scrup23) June 13, 2017
Brilliant stuff from @Skittles – plain white packaging to give full rainbow focus to #Pride pic.twitter.com/KUbvuvbfcj

— Jacqueline Buckland (@jax1985) May 31, 2017
Loving that @Tesco #camberley are selling these awesome #pride @Skittles There is always #onerainbow in our house! @ajones_ptp pic.twitter.com/tAbCN8yXmS

— Em Miller-McCaffrey (@emmabaldry) June 3, 2017
The flavour remains the same, but given that all the sweets are the same shade of white, it's impossible to tell which combination you'll get.
Although it is great to see a major company offer support to such a worthy cause, the campaign hasn't been entirely well recieved.
Some have labelled the move as racist, with some asking "Why should whiteness mean equality?!"
This is soooo fucking stupid.
Why should whiteness mean equality?!
Thats the fucking problem!
We will never have nor want whiteness!! pic.twitter.com/zatBSbSNDA

— Tora Shae (@BlackMajiik) March 31, 2017
They literally ALREADY had a rainbow.
They could've just done a special flag edition and donated to some orgs.. but NOOOOOO "white skittles"

— Tora Shae (@BlackMajiik) March 31, 2017
At the moment these special Skittles packets are only available at Tesco stores in the United Kingdom.