We're all basically hoping that Better Call Saul just turns into Breaking Bad.
As great as Saul Goodman is, there's a Walter White-shaped hole in our hearts that will never, ever be filled.
And the TV show really got us going today, thinking that Mr White was making a comeback.
See @BryanCranston on the @BetterCallSaul set during season 3! https://t.co/C4JX0qUu9t #BetterCallSaul #BreakingBad pic.twitter.com/0gQXTIFeoR

— Entertainment Weekly (@EW) March 28, 2017
AMC released a behind the scenes video earlier to promote season 3 of Better Call Saul, and who popped up in it? Yep, Bryan Cranston.
Many publications teased his comeback, but sadly the Malcolm in the Middle alum was just visiting the set while on a book tour.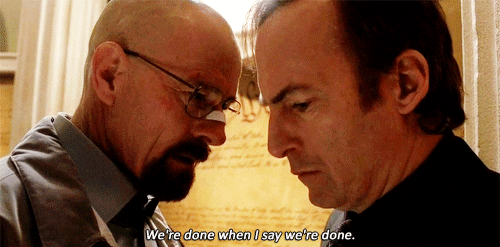 However, Bryan will play a geriatric patient which he joked will be difficult to spot in the upcoming season.
We'll get Walter White back someday ladies, someday…
Better Call Saul will be making a comeback on April 10.
Oh, and while we have you; don't forget to have your say in the inaugural SHEmazing Awards this May! It's time to vote, and you can do it right here!