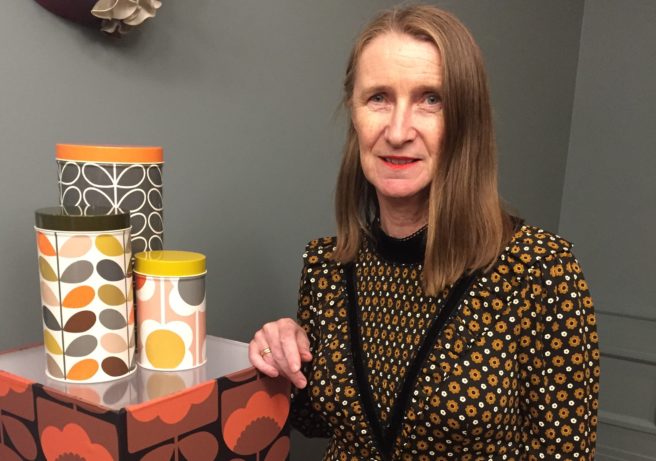 This year has been quite a milestone for Orla Kiely. The acclaimed Irish designer is celebrating 20 years of presence in the Kilkenny shops, as well as the launch of A Life in Pattern, the first exhibition dedicated to the Dublin-born designer at the Fashion and Textiles Museum in London.
Based in London, Orla Kiely was in Dublin recently to answer some of our questions.
After her long successful career, there is one piece of advice she wants to share with young designers.
It is important for young designers to know what they are really good at and to follow through with who they are", she said.
"I think it's essential to be aware of what is going on in [in the fashion world] but to find they own identity is very important. Once they really know who they are and what they love, then they can follow that through."
Known as the Queen of Prints, Orla Kiely wears pattern on a daily basis, but for some of us, including prints in our wardrobe can be quite a challenge. But her answer is simple: start with accessories! "I think print on a bag isn't challenging", she said.
While her designs have been worn all around the world, one person has offered some great exposure to the brand in the past few years: the Duchess of Cambridge. Every time the mother of three wears an Orla Kiely dress, the outcomes are extremely positive and the designer couldn't be happier about this "Kate Middleton effect".
"It's great!", she says enthusiastically. "She has worn us four times and it's always unexpected, we have never planned it. She looks great, she is tall, and she wears things so well."
As she is celebrating two decades of design, Orla has seen the world of fashion evolving over the years, and sometimes, for the better. Customers seem more and more interested in investing in statement pieces that will last longer, even if it means buying less the rest of the time.
'People are definitely buying less and better quality", she notices. "I like to think that our clients can buy something this season, but they also are still happy to use the items that they bought ten years ago."
Never really interested in trends, Orla wishes that her timeless pieces will keep being used by her customers over the years.
For the many of us who adore her 70's aesthetic, this certainly won't be an issue