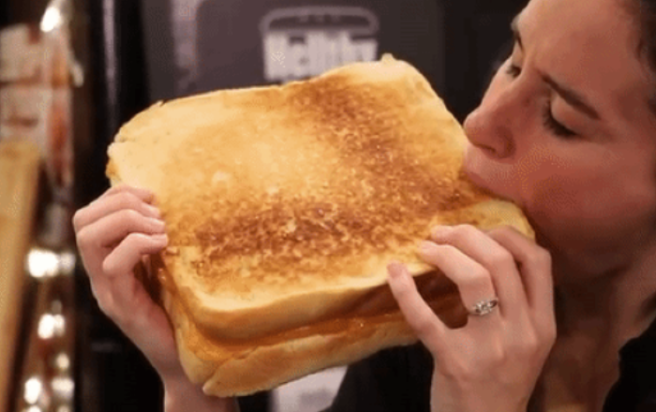 We are here to provide you with a daily dose of deliciousness… in the form of melted cheese.
The wonderful people at Healthy Junk Food have created the ultimate grilled cheese sandwich, and it is MASSIVE.
We wanted to share the recipe with you, because it could genuinely change your life… for the better!
What you'll need:
2 packages active dry yeast
​3 tbsp white sugar
2 1/2 cups warm water
3 tablespoons lard, softened
1 tbsp salt
6 1/2 cups bread flour
20 slices cheddar cheese
Tomato soup
Milk
Butter
What you'll do:
1. In your mixing bowl, dissolve yeast and sugar in warm water.
2. Stir in lard, salt and 2 cups of flour.
3. Stir in the remaining flour, a 1/2 a cup at a time, mixing in between adding flour.
4. Mix for approximately 8 minutes or until dough is smooth and elastic.
5. Lightly oil a bowl and toss your dough into the oil, cover with a damp cloth, and let it rise in a warm place for one hour or until doubled in size.
6. Deflate the dough, and divide it in half on a floured surface.
7. Press them out until they are the size of your square baking pans.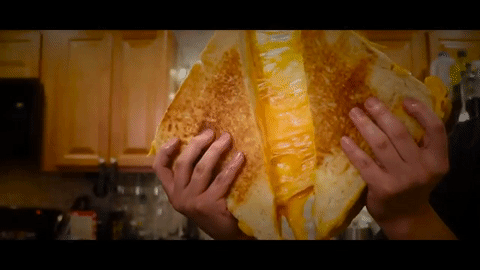 8. Grease the square baking pans and add dough, cover, and let rise for 40 minutes.
9. Bake for 30 minutes at 375°F or until top is golden brown.
10. Let your bread rest until it's cool, and carefully make your giant bread slices on both sides of each loaf.
11. Soften some butter and brush it on one side of your bread.
12. Grill on medium heat, adding as much cheese as you want.
13. Flip after the bottom is golden brown, for approximately 3-5 minutes.
14. Grill the other side until golden brown.
15. Finish in the oven if the cheese hasn't fully melted, to prevent the bread from over grilling.
YES, PLEASE!