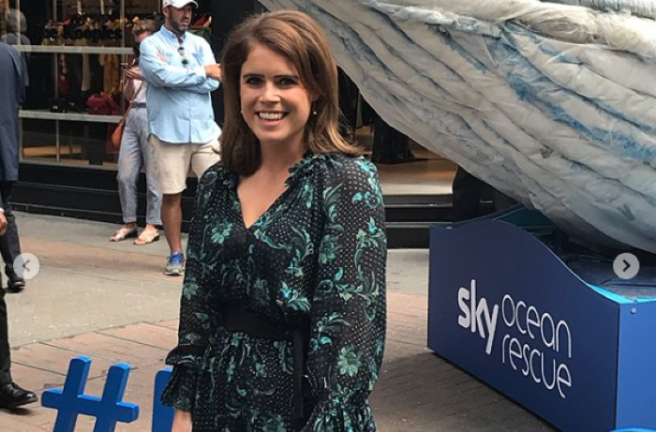 The Duchess York has officially fired back at the Daily Mail, and we could not agree more with what she had to say. Get it, mama!
Sarah Ferguson could not believe the content of the scathing article Jan Moir at the Daily Mail penned about her daughter.
Princess Eugenie recently announced that that her wedding will be held in St. George's Chapel, Windsor, and 1200 seats will be open for the public to attend.
Hold your breath: #royalwedding2 is coming
Princess Eugenie & Jack Brooksbank to invite 1,200 people into the grounds of Windsor Castle on 12 October.
The Bride & Groom will also do a short carriage ride through Windsor High Street. pic.twitter.com/onvuQllypB

— Chris Ship (@chrisshipitv) July 18, 2018
Because this is the same venue Prince Harry and Meghan Markle had for their wedding, Jan claimed in her article: 'Who the hell does Princess Eugenie think she is?'
But that's not all the writer had to say about the princess.
The article went on to compare her to one of the Queen's corgis, critiqued her outfit choices, called her spoiled, and mocked her job at an art gallery.
'Let us be frank. For her first 28 years on this planet, Her Royal Highness Princess Eugenie of York has done almost nothing of note,' the writer continued.
Don't believe us? Check out the article for yourself. There is no holding back on the attack of the princess' character.
Poor Eugenie was then labelled as a royal moocher, with the dead set goal of gaining fame from her royal relations.
'Like a neatly groomed, determined seagull, Eugenie has spent nearly three decades drifting along in the richly foaming wake of the Queen, picking off what she can from the royal catch.'
Well, her mother, and rightly so, decided to break the usual rules of engaging the media and step in to defend her daughter.
The Duchess of York posted a letter that her colleague Sarah Wade, CEO of Humanitas Charity, wrote to the Daily Mail.
The CEO questioned what the article's purpose was: 'Is it to make a young couple feel embarrassed or ashamed of the choices they have made for their wedding day or it is to invite anger and hatred towards them?'
She also called the article 'tantamount to bullying' and said the Daily Mail's words were 'unfounded and hurtful abuse'.
Eugenie's mother posted the letter with the caption: 'Couldn't agree more with this letter about the disgusting article that Jan Moir wrote about @princesseugenie and Jack. Bullying at its' premium and hiding behind a newspaper commenting about people you've never met.'
It seems that Sarah Ferguson is not going to lie down while her daughter's reputation is slandered by a widespread publication based on 'unfounded' grounds. Girls have got to stick together!
The charity CEO then ended the letter with: 'It is imperative that we support freedom of expression, but not when the intended outcome is to inflict pain on another person or incite others to do so.
'And Jan Moir's article does just that.'
Commenters have expressed their support for the Duchess and her daughter Jeanie, and could not believe that Jan's article had been approved by the newspaper.
'Good for You Ms. Sarah! Awesome retart. All Mom's should take a page from your book!' One mum from Texas replied.
'Absolutely disgraceful article and it's about time Moir was sacked ! Daily Mail get your act together.. bullying on an epic scale,' said another comment.
We have yet to see a response from Jan Moir or the Daily Mail, but we're glad to see Sarah Ferguson is making a stand against uncalled for negativity and what another commenter called, 'defamation of character'.