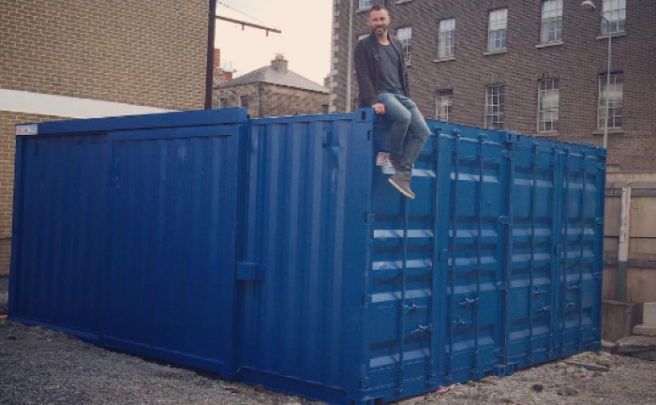 The latest addition to Dublin's coffee culture has a little bit more than speciality coffee and a cosy atmosphere going for it.
Container Coffee is about to open on Thomas Street, and the unique venture boasts an impressive shipping container as its host.
Cutting a squat but striking figure surrounded by buildings, the charming steel structure's pop of blue and inviting outdoor space sets it apart from other shop front coffee houses.
Entrepreneur Gordon Hickey has been documenting the progress of the unique project on Instagram, amassing the interest of hundreds of coffee culture enthusiasts.
The coffee hot spot, stocking Cloud Picker brew, is set to open in the next two weeks, so the months of hard work are soon to pay off.
'The reason I set it up was I was working on a medical television programme last year, and there was a shipping container with a clinic inside of it, and we toured it around Ireland giving free medical checks, and it was quite easy to do it,' Gordon told SHEmazing!
'So last year I came back from New Zealand and I was cycling down to Thomas Street and I was thinking that it needed an injection of life and I'd seen an empty piece of land and thought this would be a great place to put a shipping container on and open a little cafe.'
After coming up with the idea, the entrepreneur kicked off the project in September last year, and hopes that the unique container will become a bit of a landmark.
As well as being a tourist spot thanks to the surrounding attractions, the shop hopes to become a regular pit stop for the local businesses and residents, serving high quality coffee and gourmet sandwiches.
Thanks to the wide, versatile open space surrounding the cafe, dogs are welcome to visit the area with their owners, and while they can't enter the freight container itself, there will be doggie bowls and treats lined up in the outdoor space.
The cafe has already had a hugely positive response from the local area, with one Instagram users commenting: 'Live literately around the corner and this area definitely needs a good coffee spot! Can't wait.'
If you fancy following the project, you can find Container Coffee on Instagram to find out when exactly the new space will be open to caffeine connoisseurs.
Oh, and while we have you; don't forget to have your say in the inaugural SHEmazing Awards this May! It's time to vote, and you can do it right here!