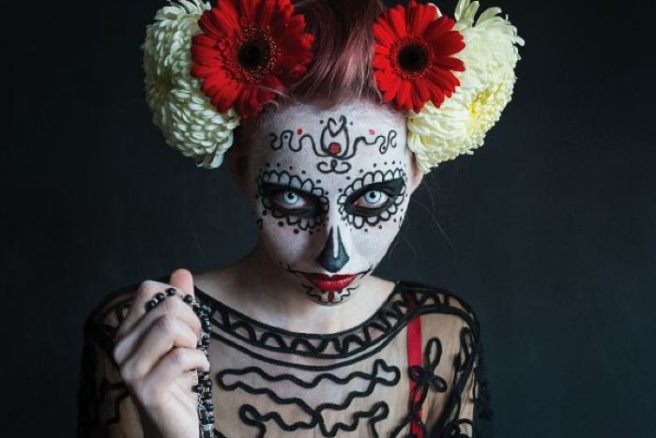 Those that revel in the delightfully fiendish time of year that is Halloween are living (dead) the dream right now. The scary films, the frightening puns, the gloriously ghoulish costumes; it's hell on earth – and you know you love it. Special attention is put into choosing your spooky attire; you want a look that's both terrifying AND on trend.
To stand out from the crowd, many of us opt to take things to another level of horror and pop in special scary contact lenses – taking the scream factor from two to twenty if done right. However, caution must be taken when it comes to using these; used incorrectly and you could seriously damage your sight. We've all heard the horror stories. Because if you can't see a potential hot Dracula to sink your fangs into on All Hallow's Eve, WTF is the point, really?
Here's what you need to know – and why caution needs to be taken – before buying and using Halloween contact lenses:
It's better to invest in a decent pair
Yes, it can be very tempting it can be to order some cheap, creepy contact lenses online the day before the party, without the hassle of having to go into a store and have lenses properly fit (and we've all probably done it).
However, any type of contact lens – no matter where they're from – that haven't been properly fitted by an eye care professional can cause serious damage to your eyes. Specsavers, for example, will fit you for some – they aren't the cheapest on the market, but you know you're getting a quality pair which will minimise any risk to your eyes.
What will happen if I just buy a cheap and cheerful pair for the day/night?
Some eye conditions people can experience after wearing these types of lenses include:
Decreased, or blurry vision
Redness
Conjunctivitis (pink eye)
Infection
Allergic reaction
Scratches on the cornea
Corneal swelling
Eye ulcers
Eye pain
Blindness, in extreme cases
You might think you'll be fine just wearing them as a once-off, but do you really want to take that risk? Experts have said don't do it.
Do I need a prescription to wear them?
Yes. In Ireland, it's illegal for anyone to sell contact lenses unless they are supplied to a valid contact lens prescription. All lenses, including non-prescription lenses, are now classed as medical devices, and should only be supplied or supervised by a registered optician.
What happens if I do wear some that I've just bought online or in a shop?
Options would advise against wearing cheap contact lenses from the Internet and without a proper prescription, especially if you have never worn contacts before. But if you have or are planning to, here are some things you can do to ensure your eyes stay safe and healthy.
DO
Take them out immediately if they feel uncomfortable
at any point.
Make sure you understand how to clean and handle the lenses, as well as other recommended instructions.
Look out for 'CE' marking on the packaging. This indicates the lenses conform to health, safety and environmental protection standards.
DON'T
Share your lenses with other people, as this can cause infections.
Wear them for extended periods of time.
Wear them over your normal contact lenses.
Wear a torn or damaged lens.