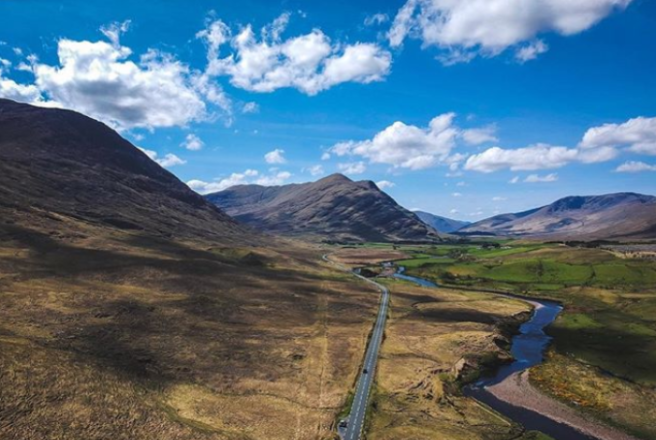 The Wild Atlantic Way is one of Ireland's greatest treasures, and the latest Tourism Ireland video shows even more stunning views of the landscape.
The area has brought the world closer together, connecting the coastline of Ireland and bringing tourist visitors from all over the world. It also provides the perfect area for a holiday in our own green backyard.
Tourism Ireland's vide, 'Ireland's Wild Atlantic Way – Connecting the world for over 100 years', emphasises the history of the scenery, and how important it is for our connections further west.
Sir John Alcock and Sir Arthur Whitten-Brown flew from Newfoundland in Canada in 1919 in a two-man biplane and crash landed at Derrigimlagh Bog in Connemara.
That same year, Guglielmo Marconi sent the first transatlantic radio-telegraph from Ballybunion to Nova Scotia, cementing our ties with Canada forever.
In 1866, Lord Kelvin Thomson changed communication forever by sending the first transatlantic cable message from Valentia Island to Newfoundland. This reducing the time it took to send a message across the ocean from weeks to minutes.
Dr Brendan O'Regan opened the world's first 'Duty-Free' shop in Shannon Airport in 1947, which led to hundreds of Free Zones worldwide,
Ireland is celebrating two 100-year anniversaries this year; the first transatlantic radio-telegraph and the first non-stop transatlantic flight.
A full re-enactment of the landing at this week's Alcock and Brown 100 Festival will honour both achievements.
One hundred years later, anyone can pick up the phone and communicate with friends and relatives all over the world or hop on a trans-Atlantic flight in hours.
It all began right here. The video serves to remind the Irish people and visitors from abroad that the Wild Atlantic Way makes an unbelievable Irish holiday.
Whether it's a short break, a cycling challenge or a trek around the entire country; there's no doubt that the landscape is hugely important for our culture.
Feature image: Instagram/@tourismireland