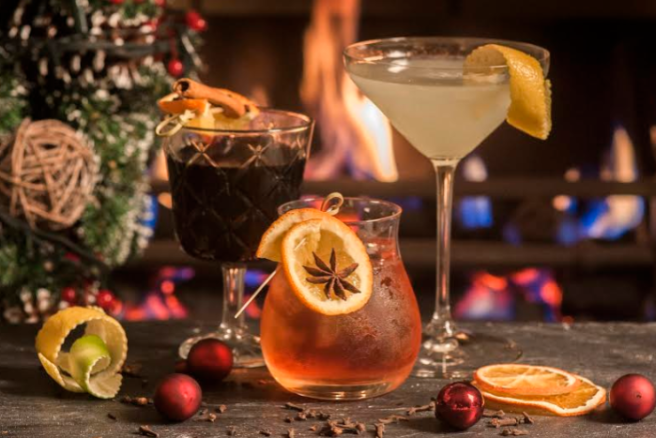 If you haven't heard of Dylan hotel, you are sorely missing out. The Irish-owned five-star boutique hotel is renowned already for it's red brick Victorian building, lavish decor and high-quality food, as well as it's amazing proximity to the Irish city centre.
Tucked into a side avenue near Baggot Street, this gem is still relatively private despite it's location, as if the building itself is housing a treat only a special few experience.
Dylan Bar has everything going for it, but we decided it was high time for us to try out their brand new Christmas afternoon tea menu: Spice and All Things Nice. We felt we deserved some five-star treatment, especially since the cost is only €45 for great service and even better food.
The design of the hotel is immediately striking; while it may be aesthetic Victorian brick on the outside, within the building is modern, contemporary design. We were seated by the fireplace by incredibly attentive staff, and after perusing their extensive afternoon tea menu, our eyes were swiftly on the prize: Christmas cocktails.
Their limited edition cocktail menu is inspired by the magical spices of the festive season; ginger, nutmeg, clove, star anise and cinnamon. It's pretty mouth-watering stuff, if we do say so ourselves. Seeing as we value journalistic integrity, we had to taste as many as possible. *winks*
We definitely weren't disappointed; their Winter Wine Warmer is an extravagant version of mulled wine, except far, far classier. Made with a mix of homemade citrus, star anise and clove syrup added to classic Merlot, the twist on the aromatic Christmas drink of the gods goes down a treat.
The Festive Pudding cocktail is a reimagined version of the classic winter dessert, made with allspice Guinness syrup, fresh orange and lime juice, old fashioned bitters, eggs whites and of course, Irish whiskey. Any connoisseurs of whiskey will adore this drink, trust us, it has a kick.
Next up on our list was the Apple & Cinnamon Crumble, made with Zubrowska vodka, goldschlanger, apple and lime juice, vanilla infused honey and topped off with a cookie crumble rim. Talk about being in heaven, the Dylan mixologists were infusing the atmosphere with subtle yet heartwarming Christmas vibes.
For those with a sweet tooth, chocolate appreciators can enjoy the Polar Express either hot or cold. Created with Hennessey V.S., Bailey's Frangelico, and chocolate and vanilla cream, you'll be rolled out of the place after one (or five…) of these.
Other divine drinks on offer include the Zenzero Negroni, which has the highest alcohol content so brace yourselves, and Before Santa's Here for another whiskey.
Last but by no means least, their Summer in December is a rum and gingerbread syrup blend for a summer mood with a winter cheer, and they also include their version of an Irish coffee; the Dylan Christmas Coffee mixed with their secret spice syrup.
The designated drivers can also try a range of mocktails which are as good as the real thing. Dylan Bar also has refreshing bubbly, for any Prosecco queens out there, and a variety of tea and coffees. Heaven is a place on earth, and it's located at Eastmoreland Place.
With all of these gorgeous drinks, we had almost forgotten about all the luscious cakes and sweet and savoury treats coming our way. Almost. They served us the carefully crafted food on a three-tiered plate, and we had a try of their spiced scotch egg, turkey and sage pie with cranberry chutney and pulled ham on granary bread and brie and cinnamon spice apple.
The savoury selection was delicious, and we couldn't leave without trying their sweet and subtly spiced buttery homemade scones and indulgent desserts. Pistachio slices, gingerbread cupcakes topped with whiskey icing and a meringue snowman with chocolate and nutmeg mousse were just a taster of what we were offered.
Sitting by the fire, breathing in the mulled wine and eating our weight in macaroons, we realised that we honestly need this lifestyle 24/7. It's extra, it's lavish, it's Christmas magic, and everyone deserves a treat like afternoon tea at Dylan Bar. Don't miss out, it's only offered until the New Year so snap up a reservation while you can.
Enjoy the Spice & All Things Nice menu in the Dylan Bar until January 1 2019.
Call 01 660 3000 to make a reservation or email reservations@dylan.ie to have your Christmas injected with the warmth of festive food and drink.
Feature image: Instagram/@dylandublin