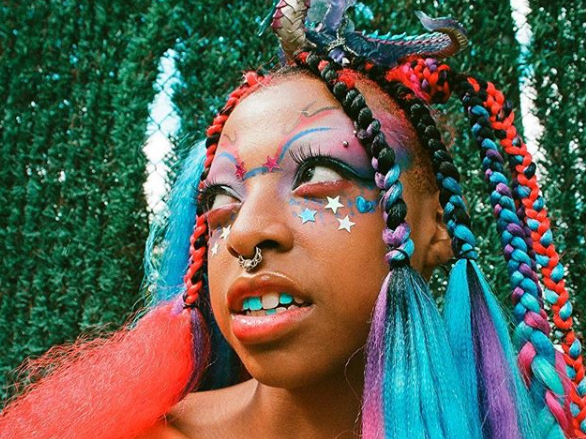 Rainbow Teeth easily win the STRANGEST Insta Trend of 2018
2018 has gifted us with some seriously eccentric beauty trends, we've had squiggly eyebrows, glitter tongues, teeth nails, pimple nails, corkscrew nails and coat hanger brows.
However, the year of weirdness isn't quite over, we think we've found the strangest craze yet: RAINBOW TEETH.
Yup, dental dye for your pearly whites. People are legit painting their teeth with dental dye to match their outfits.
Seems a bit like The Capitol from the Hunger Games:
We have GOT to see the rainbow trend in action. CHRŌM have released a range of 10 colours for fashion followers to try: light pink, a slightly darker pink, baby blue, a slightly darker blue, mint green, yellow, light gold, dark gold, silver, and copper.
Each pastel shade has its own sugary sweet name, from 'Candy Floss', 'Sunshine' to 'Fairy Dust'. Unforch, it's not edible and doesn't have a taste.
We reckon if it tasted like actual Candy Floss they'd get a lot more business from those of us with a sweet tooth.
The polish works in the same way as nail polish and stays on your teeth for up to 24 hours. The colour doesn't smudge while eating, and all you have to do to remove the polish is brush your teeth and it's gone.
It sounds pretty weird alright, but the creator David Silverstein claims that the trend is completely taking off.
In an interview with the New York Post, he commented "We see this becoming commonplace – everything from a club vibe to an everyday workplace fashion accent."
"Perhaps you go to work with one tooth that matches your nail polish or your hair colour."
He's a creative man, that's for sure.
Silverstein says the product's solvent is made from a grain alcohol base and that the pigments comply with the Food, Drug, and Cosmetics Act.
He declined to disclose CHRŌM's full ingredient list for proprietary reasons, but added that the tooth polish is 100% safe and formulated by dentists: "It doesn't stain your teeth, and it's not permanent."
A dentist with NYC Smile Design, Dr. Ramin Tabib, was interviewed about the product and stated that "I have no idea what's in this product and the safety long term. Seems like the company does not want to give the ingredients out and they are calling it proprietary."
Hmm, potential shadiness there.
Silverstein also revealed that the brand is aiming to release a glittery version of the product soon.
It's ideal for Halloween, but would you wear the product in your everyday life?
We say go for it, your colourful smile will be catching many an eye.
Feature image: Instagram/@chromtoothpolish