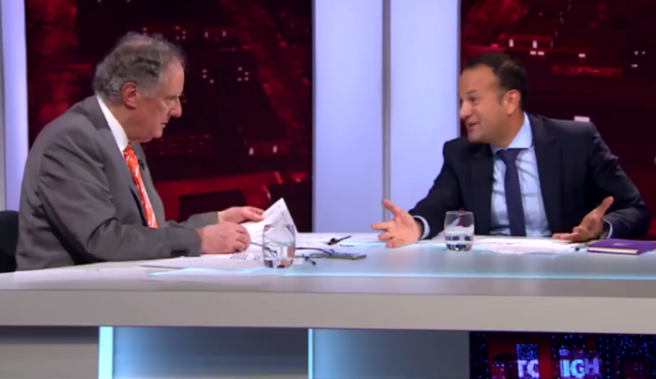 Taoiseach Leo Varadkar is facing criticism after his appearance on the Vincent Browne show last night.
The leader expressed to Vincent that the majority of Irish people are 'middle class,' and that that includes people living on minimum wage.
'Over 70 per cent of people' consider themselves middle class, according to the Taoiseach, and those on minimum wage 'very much are the people.'
VIDEO: Taoiseach discusses the meaning of "middle class" #vinb pic.twitter.com/xgGL0kwsM8

— Vincent Browne TV3 (@TonightWithVinB) July 26, 2017
Vincent Browne also described the concept of those on minimum wage being middle class as a 'fantasy.'
The comments caused anger on Twitter, as people exclaimed that the Taoiseach doesn't seem to know what life is like on minimum wage.
Watching the #VinB interview with Leo. A lot of grandstanding and patting one's own back. I'm middle class now it seems also…Really?!

— Kieron Pierson (@KieronPierson) July 27, 2017
There is a major housing crisis in Ireland, and Dublin in particular, right now.
A number of potential remedies have been considered to relieve the strain on renters and buyers, and a vacant property tax is one of them.
Taoiseach Leo Varadkar hinted that he is strongly considering implementing such a tax in the hopes of creating more homes from what is already in existence.
Leo's Middle Ireland is more of a fantasy than Tolkien's Middle Earth. #vinb

— Kev (@ProKevolution) July 27, 2017
'There are a lot of vacant properties in the country, some of those could be renovated and brought into use, some could be purchased.'
'I think we need to impose penalties on people who leave houses vacant in areas where there's a very demand for housing, and those houses should be in use,' he told Vincent.