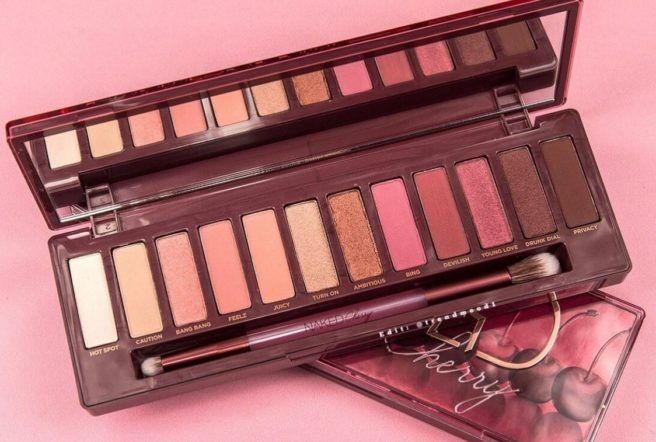 With the recent retirement of the original Naked palette from Urban Decay's beauty arsenal, the next collection launch for the behemoth brand was hotly anticipated.
As consumers mourned the loss of an iconic product (a loss soothed somewhat by the deserved exit the palette was given – if you haven't seen that funeral departure featuring Nicole Richie then here's the link, you're welcome) the well-contoured cogs at Urban Decay were turning, lining up their catwalk-watching with key trends of the moment before finely milling the two into a new capsule collection for the grieving Naked 1 zealots.
I'll never forget walking into a department store in Limerick and seeing the OG Naked palette on a purple velvet pedestal before emerging with it clasped in my clammy teenaged hands, and with it's departure, all eyes were on Urban Decay, waiting to see what would be introduced, almost in it's stead.
The new release had to, like all others, appeal to the non-legacy audience of beauty lovers who were more adjusted to having their faces pressed up against the UD Instagram page rather than the brand's colourful displays in department store windows of era's past.
And through these elements, (and a knack for knowing what the beauty community wants before any influencer tells them)  the new Naked Cherry collection was born.
Urban Decay purists will recall the brand's original values – to be an antidote to 1996's obsession with washed-out neutrals by redefining the nude and introducing pops of well formulated, rebellious colour, and this is exactly what they have done once again with the Cherry.
The collection is perfectly curated, with the pièce de résistance of course being the Naked Cherry eyeshadow palette, but before we get to that, let's run through the other additions.
First, we have a triad of lipsticks that can only be described as extra. Extra shimmery, extra pigmented, and extra-vagant. Formulated into their Vice Lipsticks, the shades are as different from one another as could be but work in harmony to create a capsule of totem lippies that would see any makeup-lover worth her Moondust through party season.
The first of the triplets is Juicy – a high shine, high shimmer neutral that would work as a stand-alone lip look, or, when washed onto the lip with a lip brush, work as a lip topper over a darker hue. The second of the trifecta is Devilish, a berry pink lippie with bold body and a shimmer that screams to be paired with an autumnal eyes.
Lastly we have Cherry, a deep berry wine so vampy it turns heads. The perfect remedy to a seemingly endless lip trend of overlined taupe liner, the deep shade is given an added dimension thanks to it's high-shine finish, and it's a complete collection stand out.
The collection also includes two new 24/7 Glide-On eyepencils, which Danielle Roberts, global makeup artist at UD, explains are created with their original formula – so soft on the eyes thanks to their buttery consistency that 90-year-olds come in to the Urban Decay stores searching for the soft pencils.
The new shades are Love Drug, a metallic purple, and Black Market – a sister to their pre-existing black best-seller Sabbath thanks to it's satin finish.
With almost a decade of makeup mastery behind her at Urban Decay, Danielle epitomises the brand's values of sophistication with an edge. Her personal take on the collection today, when I meet her in the Grafton Street store,  is a dark, berry-bitten but glossy lip (Cherry Vice Lipstick, of course) and a subtly sparkled, powder-puff pink eye.
She explains that her almost decade-long career with the brand stems from her love of the brand's inclusive mission statement, and, of course, her love of makeup.
'Sometimes on social media, the makeup that you see is so extravagant that not every woman would want to look like (that) , so we tailor our trends  based on that but also based on what everybody can achieve with our product,' she says.
She talks me through the final two pieces in the collection – a duo of palettes, one for eyes and one for face.
When faced with the dreaded 'desert island' question -Danielle identifies the Highlight and Blush Palette as her essential could she only choose one thing from the collection.
It includes a deceptively white highlighter, which rather than giving the icy highlight anticipated, instead gives a soft pink strobe effect (one that's still twinkling on the back of my hand as I type this, a good four hours after our chat).
Laying beside this in it's eclectic cherry-print packaging, is a blush, whose shade can only be described as cresting sunset – it's warm, slightly earthy, and stunningly pink. Danielle mentions that the shade can be a little frightening to some on first impression, but easily demonstrates how the blush is buildable rather than garish. Lastly, we have another shimmer shade, which Danielle delightfully proclaims to be the 'hotline bling' shade – the ultimate peachy, blinding highlight. She maintains that you could do a full face of makeup for any occasion with the palette, and after seeing the swatches in action, I'm inclined to agree.
While Danielle and I are in raptures over the face palette, the focus of the online buzz among beauty influencers has been on the Naked Cherry eyeshadow palette.
The palette's cherry-printed, rose gold packaging swings open to reveal a full sized mirror, and beneath it, 12 brand new, never before created eyeshadow colours. Drunk Dial and Young Love are the shades everyone from Jamie Genevieve to Jen Morris of Too Dolly Makeup have been raving about. The palette includes a mix of mattes and shimmers, the aforementioned both being shimmer shades, but in a cherry-inspired set of hues.
From the lightest matte neutral to deep, rich purples, the palette is a response to the pink shades seen globally, in high fashion shows, dusting celebrities cheeks, and on budding makeup artists on Insta. The eyeshadows are created using the same pigmentation method as the other Naked palettes, meaning you get some serious pigment payoff for your investment.
The palette is versatile, capable of launching 1000 nights out with unique party looks, but soft glam, muted eyes are also within reach with just a flick of the double-ended brush the palette includes.
The last element to the collection, undoubtedly fun and frivolous in the best way, is the iconic Urban Decay setting spray – but of course, the new edition is cherry scented. The scent doesn't impact it's formula, so it's still perfect for all skin types – and the scent is divine. Setting your makeup with a dramatic spritz at the end of a beautifying session is all the more satisfying when it's cherry scented.
The Urban Decay Naked Cherry Palette will be available from The Urban Decay Boutique, 50 Grafton Street, Dublin 2 and Debenhams Stores nationwide and online at www.debenhams.ie from 15th October 2018. The collection is launching at Arnotts Beauty Hall, Henry Street and online at www.arnotts.ie and House of Fraser at Dundrum Town Centre from 2nd November 2018 – and online.