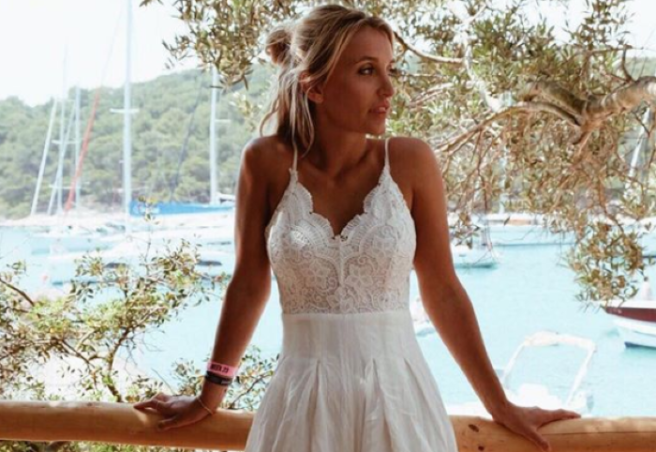 Tiffany Watson has come under major fire for body shaming her Made In Chelsea co-star.
The Ibiza series of the show is currently on screens, and in the series, Tiff and boyfriend Sam Thompson are on a break.
Sam hooks up with newcomer Mimi Blanchard, prompting Tiffany to brand her a 'dumpling' when she finds out.
'I came out here and he's in a relationship with a f****** dumpling,' Tiffany spits in a rage, after being informed of Mimi and Sam's hook up.
Mimi then took to Instagram to share a video response to Tiffany's comment, and highlighted how it's truly unfair to comment on someone elses body.
'I wanted to make this video in light of tonight's episode,' she said in the snap.
'I want to talk about body-shaming and why you should never do it. Because what you say to somebody might have an effect on them more than you think.'
'If I got a comment like I did in tonight's episode five years ago, it would've affected me in a different way.'
'I would have cried all day about it. I am so happy in the body I am in.'
'Although I don't look like a 6-foot model, I don't have to look like everybody else. The beauty in being you is beauty in your uniqueness.'
'What someone says about you says more about them,' she concluded.
In the caption on the video, Mimi said: 'I really wanted to use this platform of mine to shine some light on body shaming. I know a lot of you following me are young girls.. and that is exactly why I filmed this video.'
'Sometimes when you're feeling insecure it's easy to talk negatively about others, or "tease" others, to make yourself feel better. I'm sure we've all done it in our weakest moments!'
'But teasing somebody (especially knowing they will hear what you say) about their height, weight & appearance is really messed up. You don't know how your words can effect someone else.'
'Be the bigger person, and also work on yourself enough to not let comments from unimportant people effect you massively.'
'I know it's tough, but you always have a decision to either reject or allow someone's words to affect you. You're YOU and that is your power.'
Tiff body-shaming Mimi was absolutely revolting. #MICIbiza

— Dangram (@squillink93) August 21, 2017
this latest ep of #micIbiza has made me dislike Tiff so much, allowed to dislike someone but body shaming them is too far

— samiie (@samiiecast) August 22, 2017
If Mimi is a dumpling, then the rest of us are sacks of potatoes! What were you thinking, Tiff!? #MiCIbiza #MadeInChelsea #MIC

— Holly Morton (@HollyMorton11) August 22, 2017
Tiff received a huge amount of backlash after the episode aired, as fans of MIC were outraged at her comments.
The reality TV star then reached out to fans via Twitter to explain herself.
'Definitely do not agree with or condone body shaming but in the heat of the moment we all say things out of anger,' she tweeted.
Definitely do not agree with or condone body shaming but in the heat of the moment we all say things out of anger. X

— Tiffany Watson (@Tiffany_W13) August 21, 2017