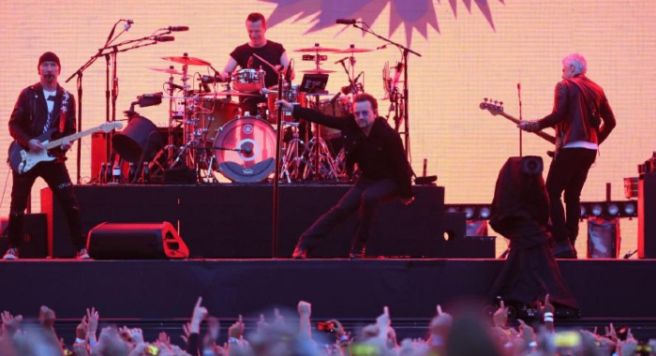 U2 took to the Croke Park stage last night for a pretty impressive concert.
And while lovers and hates tweeted about them all day, there's nothing like the tweets from inside the venue.
From the classic songs, to the tri-colour jets, it seems like everyone had a damn good night.
Here are the best tweets from U2's gig last night:
ONE in 270 degrees… @U2 @U2start @CrokePark #U2TheJoshuaTree2017 pic.twitter.com/hxXgw99G4y

— Brandy (@Brandy101273) July 23, 2017
U2 Croke Park pic.twitter.com/CcxCUSsxNN

— Brian Phelan (@brianphelan16) July 23, 2017
Quite a privilege to see @U2 play in their home town @CrokePark Thanks a million @a1bionant #U2TheJoshuaTree2017 pic.twitter.com/e0gTjtyKyw

— Karen Flanagan (@wolveskaren) July 23, 2017
The lights of croke park @U2 #u2 #U2TheJoshuaTreeTour2017 pic.twitter.com/BGqGA5HQFg

— Matthew Gavin (@TheMattyFG) July 23, 2017
That made me cry #class

— Máire Love (@MaireLove1) July 23, 2017
@U2 Amazing last night @CrokePark #U2JoshuaTreeTour2017 pic.twitter.com/7aeCyTfm48

— Robert Enefer (@Robertenefer) July 23, 2017
Wasn't even there, but tears of joy watching all the footage and photos from the Croke park gig last night. Thanks u2 fam for sharing!!

— mark andrew brown (@markyoneillu2) July 23, 2017
U2 playing in a Croke Park Last night didn't have a patch on Coldplays performance there a few weeks ago. No where near as close.

— Alice Diver (@AliceDiver) July 23, 2017
U2 at croke park is a truely religious experience..great night wrh ig bro pic.twitter.com/A6g8qfaDaP

— Paul Mckee (@paulmckee007) July 23, 2017
I am still amazed at the electric enthusiastic crowd in #Dublin @CrokePark @U2 That house was ROCKIN' all night! #U2TheJoshuaTreeTour pic.twitter.com/tuxvULzh0r

— Dreaming Outloud (@danastar78) July 23, 2017
Superb #visual and #interactive #experience @U2 #joshuatreetour2017 #dublin #CrokePark pic.twitter.com/ynQ9u5ec5T

— J.J. De la Torre (@DelatorreJJ) July 23, 2017
What a night… #U2 #joshuatreetour2017 #CrokePark pic.twitter.com/9EaUtRSHMT

— Amanda Brunker (@AmandaJBrunker) July 23, 2017
Aerobatic team flying over Croke Park while U2 play Where The Streets Have No Name. pic.twitter.com/PHbgqnecjk

— Niall Scott (@NiallScott) July 23, 2017
El retorno a casa de #U2 #U2TheJoshuaTree2017 #Dublin #CrokePark
.twitter.com/bKVJWJsx9M

— xU2oStark (@xU2oStark) July 23, 2017
U2 at Croke Park …one of the best live music experiences I've ever had. Brilliant. pic.twitter.com/QXihKYVFux

— Moonraid (@moonraid) July 23, 2017