Poor Rita. The pop starlet tends to get a lot of flack over her fashion choices, but perhaps this one is justified. The I Will Never Let You Down singer took to the X Factor stage last night seemingly having forgotten to dress her bottom half. Yikes.
Yes, audiences got more than they bargained for when the star donned a SUPER short and not so easy on the eye blazer along with a new fringe and bright green eye shadow.
Twitter went into a spin and quickly blasted the singers look but Rita should be used to this by now, her daring and divisive fashion sense is often the source of ridicule.
However, in this case she is not the only celeb to rock a trouser-less look. Here, SHEmazing! documents the culprits…
1) Miley Cyrus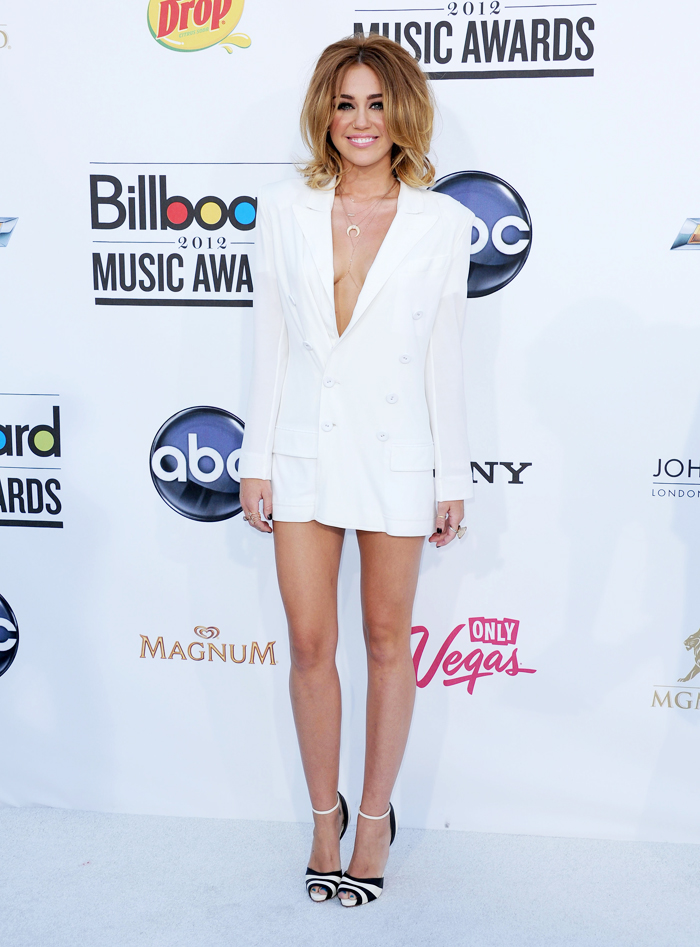 Miley debuted this look on the eve of her dramatic transformation into twerking, tongue out, wrecking ball Miley. Though we think her hair and make up is flawless (and those shoes are to DIE for), she was definitely pre-empting her outrageous fashion choices by wearing a blazer and literally nothing else. The gold body chains and stripped back accessories are a nice touch to the outfit but nothing can overcome the fact that she is wearing absolutely no trousers you guys.
2) Rihanna
We know Rihanna is a mad dresser and that is kind of why we love her. This velvet blazer ensemble manages to preserve some of her dignity by wearing tights but still not much is left to the imagination (as usual). The fringed bag and diamond choker definitely adds to the drama but overall we can't place this as one of her better looks. We are not sure if even a pair of trousers could have saved it.
3) Roz Purcell
Even the Irish are not immune to the occasional foregoing of pants but it definitely helps if you happen to be a genetically gifted super model. We totally want this eye pooping glitter number for party season but sorry Roz, we will be throwing a skirt on.
4) Kendall Jenner
Legs for days. Kendall arrived at her destination sporting a Yeezus Tour jumper (a gift from Kanye perhaps?) and… well that's it really.Taking casual chic to a new level, with legs like that we can hardly blame her. Just don't bend over, Ken.
5) Charlotte Crosby
We know this Geordie lass is a bit crazy (she jumped into a pool with a potted plant in the latest season of Geordie Shore folks) but wearing a shirt without a pair of bottoms surely tops the list? No? Okay maybe not, but this image from the campaign of her fashion line sure crosses the boundary into dodgy. She is one pesky gust of wind away from full exposure but we guess that this shameless celeb does not have much to hide.
6) Solange Knowles
Okay, we know that this lady is seriously stylish and if any celeb has gotten close to undoubtedly pulling off the trouser-less look, it's her. Solange pairs a white shirt with a white waistcoat and forgoes trousers simply pairing her ensemble with a red lip, barely there stilettoes and her trademark fro'. However, we are still a bit traumatised by the length of this look and not quite sure how she managed to sit down. A pair of matching white short shorts may have been the perfect finish to this nearly there ensemble.