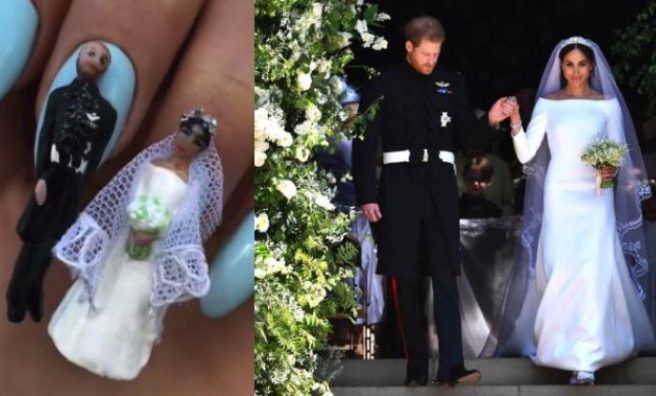 So a few weeks ago, the gorgeous Meghan Markle married Prince Harry in a lavish ceremony in Windsor.
Naturally, it sparked quite a few trends, with people copying the bride's dress and plastering their faces on almost everything.
One thing we didn't really expect though? Royal wedding nail art.
No, it isn't just a cute romantic manicure inspired by the couple's big day!
The nail art literally has a mini Meghan and Harry glued to acrylic nails – and we're kind of terrified.
A nail artist on Instagram, @nail_sunn, was clearly wicked inspired by the day – and decided to create something pretty impressive.
And pretty weird, but hey, that's life.
The new Duke and Duchess of Sussex were created using acrylic, and in great detail.
However, their faces are a little dead-pan, which is probably the reason they look so creepy.
If this particular look is a bit OTT for you (we don't blame you!) then why not give the bride's actual nail shade a whirl?
Meghan apparently wore 'Ballet Slippers' nail polish by Essie on her big day.
A lovely light pink, it was definitely more understated than the mad looking nail art.