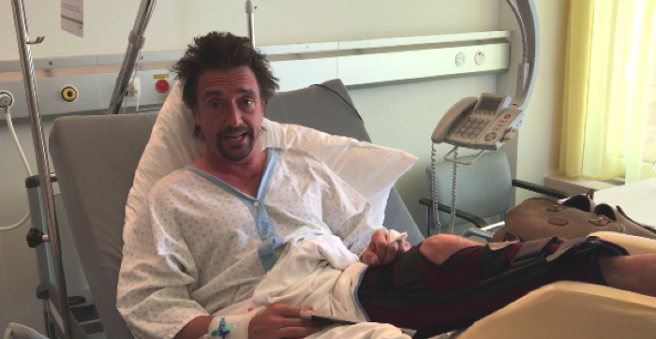 Former Top Gear presenter Richard Hammond was involved in a car crash in Switzerland yesterday, which sparked a flurry of worry among his fans.
Richard was filming a segment for the second season of his Amazon Prime show, The Grand Tour, when his car rolled off a hill and burst into flames.
He was airlifted to hospital after losing control of a Rimac Concept One electric car while taking part in the famous Hemburg time trial.
His co-presenter, Jeremy Clarkson described the crash as one of the worst he's ever seen.
It was the biggest crash I've ever seen and the most frightening but incredibly, and thankfully, Richard seems to be mostly OK.

— Jeremy Clarkson (@JeremyClarkson) June 10, 2017
.@RichardHammond video exclusive: I'm not dead. https://t.co/qhOU6gD5Rc

— DRIVETRIBE (@DRIVETRIBES) June 11, 2017
Speaking to his fans on DriveTribe in a post called I'm Not Dead, Richard thanked the medical team that treated him last night, as well as his other co-presenter James May for smuggling gin into the hospital.
He also apologised to his wife and daughter for getting into the situation in the first place.
Looking at the video (which you can watch here), Richard is in good spirits and still joking around with his crew.