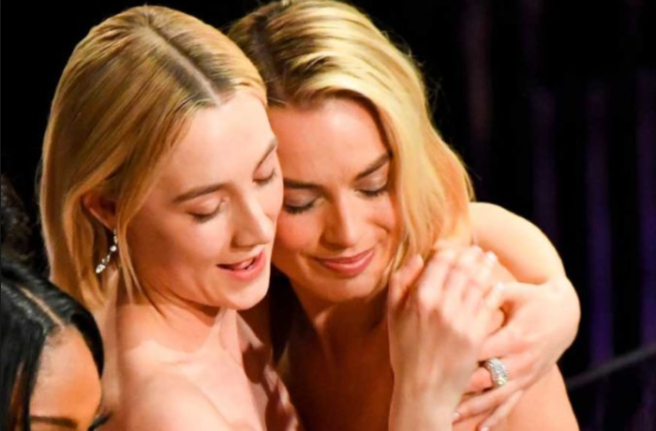 Saoirse Ronan and Margot Robbie are hitting international screens in their roles as Queen Elizabeth I and Mary, Queen of Scots.
The 24-year-old Irish actress has just opened up about the hugely emotional experience of finally coming face-to-face with co-star Margot Robbie in costume.
Ronan was candid while visiting The Graham Norton Show, explaining that the duo were kept apart for weeks while they settled into their roles in the flick, Mary, Queen of Scots.
The actress explained: "Mary and Elizabeth never actually met so we took a bit of artistic license and lied about what really happened."
"We only met once in the film and because of that Margot and I stayed apart so we didn't know what each other looked like. When we finally met for the scene we cried. It was very emotional," she continued.
The Lady Bird actress also spoke about her time working with animals on the set of the period piece, which proved challenging.
"The horse I had to ride had starred with Wonder Woman and was very good looking and he knew it," she said. "He just wouldn't do anything, he wouldn't move."
"Then I realised that every time someone shouted 'rolling' he would do a little cough. He was actually nervous!" she added.
Ronan plays the titular Mary, who was Queen of France at just 16 and widowed at 18, and defied pressure to remarry and returns to her native Scotland to try and take the throne.
But Scotland and England fall under the rule of her cousin Elizabeth I, who was played by Margot Robbie.
Speaking of the relationship between Mary and Elizabeth on ITV's This Morning, Ronan said;
"Elizabeth, is this shell of her former self – she's completely not human, Mary is bloody and dirty, it's two women meeting who have been pushed to the very limit."
"We asked for it (the separation), it was a cool experiment to stay apart, we didn't know what the other person looked like… we were revealed to each other the shock of seeing the visual of what they looked like," she continued.
"How we felt as actors after three weeks of being kept apart was how Mary and Elizabeth would have felt, it gave us so much adrenaline and emotion."
Photo image credit: evoke.ie