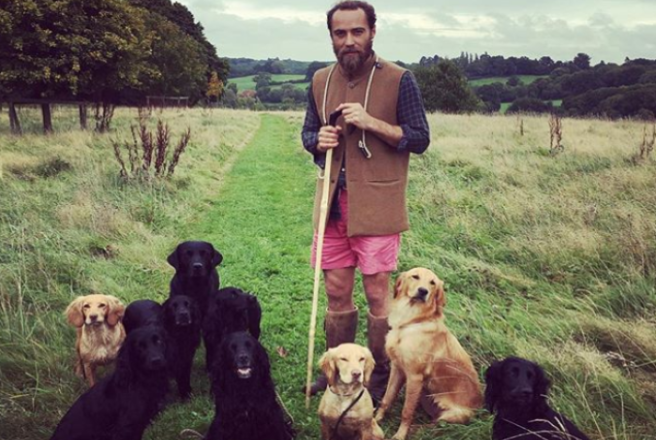 Kate Middleton's dapper brother James has made his Instagram public, and it's full of the cutest animal photos you can find.
The 31-year-old is allowing the public to see his social media, including images which date back to 2013 as well as his charity work with animals.
His dog Ela as recently becoming a Pets As Therapy (PAT) dog, and his pride is palpable;
He captioned his latest snap, dated New Year's Eve;
"Proud of Ella for becoming a PAT dog this year. Animals can provide a sense of calm, comfort, or safety and divert attention away from a stressful situation and towards one that provides pleasure."
He shared photos of at least eight other dogs, among his own pet family includes a gorgeous Golden Retriever, a black Labrador, and multiple Cocker Spaniels.
"The ever growing pack," James captioned the snap, adding a paw print emoji for good measure.
Looking through his posts that offer an insight into his Scotland life, three main themes which emerge about the future Queen Consort's little brother are; animals, selfies and celebrity cameos.
Many candid family moments are also on display, such as those from charity events with Pippa and even some images of his ex-girlfriend Donna Air.
James also features chickens, birds and even a little white lamb on his unreal page. We wanna see the royal lifestyle we can never afford, TBH.
He also shows off his travel pictures, such as ski trip shots and throwbacks to his extravagant holidays, with Pippa included.
Last week, James visited St. Barths with his sister Pippa and her husband James Matthews, who recently welcomed their son Arthur Michael William.
We're hugely excited to see even more insight into the Middleton brother's lifestyle. This is some MAJOR good stalking content.