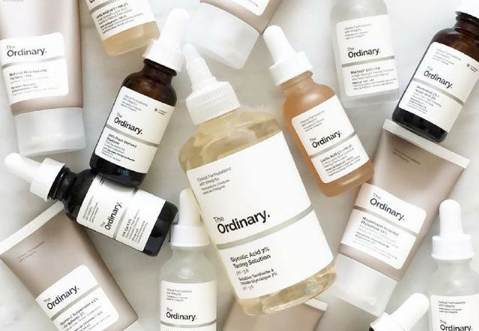 With whispers around the internet of cult beauty brand The Ordinary possibly closing down, we've decided to round up a list of The Ordinary's best products to nab before it leaves us forever.
Renowned for its accessibility and affordability, the relatively new brand has recently found itself in the media for all the wrong reasons, after the founder Brandon Truaxe had a MAJOR Instagram rant.
Alleged major criminal activity has resulted in reported shutdown for the company, with Truaxe claiming that The Ordinary will close effective immediately.
SOB. While waiting lists are a mile long, you can still battle until the end and make sure you have all of these gems…
The Ordinary Serum Foundation with SPF 15 by The Ordinary Colours 30ml (Various Shades)
Their famous lightweight foundation sold out within seconds of being launched, and the waiting list is still years long. The Ordinary's Serum Foundation is considered one of the best lightweight face bases on the market, it's definitely the one to watch before the stores say goodbye to us.
Hyaluronic Acid 2% + B5: Your go-to for dry skin
Their products mainly focus on only one or two ingredients, so you know they haven't put any unwanted chemicals in there, and each element is sustainably sourced.
The Ordinary "Buffet" + Copper Peptides: for stressed out skin
This one is your absolute winner if you are plagued with blemishes, and is totally cruelty free just like all of their other products.
The Ordinary Granactive Retinoid 2% Emulsion: Pigmentation or ageing concerns
This one gained recognition for being a staple of Kim Kardashian's personal skin-care routine, needless to say it flew out of the stores after this came to light
The Ordinary Azelaic Acid Suspension 10%: The ideal brightening formula
Uses anti-inflammatory properties to improve an uneven skin tone. Genius.
The Ordinary High Adherence Silicone Primer
Use it as a supreme primer for your make-up, free from oil or alcohol so your skin won't be too shiny. Instead, it mattifies and moisturises.
The Ordinary 100% Plant-Derived Squalane: Perfect for damaged skin
Squalane is a botanical lipid which is responsible for keeping the skin hydrated through the prevention of water loss.
Salicylic Acid 2% Solution: seamless for acne
This one has so many benefits, both for pore-refinement and exfoliation. It's use of Alpha Hydroxy Acids dig deep into the skin for a smooth clean.
Niacinamide 10% + Zinc 1%: wave pimples goodbye in the mirror
Helps increase collagen production and diminish hyperpigmentation. Utter life-saver.
100% Organic Cold-Pressed Rose Hip Seed Oil
Tackles maximum dehydration, as well as shielding sensitive skin against damaging aggressors.
The Ordinary works to educate their customers on the presence of every ingredient involved in skincare by naming them after the core component, so the company completely evaporates any sense of transparency.
There are no tricks, false advertising or flowery language usages involved, just honest products, and cheap prices.
Founder Brandon Truaxe explains on the company's website that "The Ordinary exists to communicate with integrity and bring to market effective, more familiar technologies at honourable prices."
What a shame this could all be taken away from us, in an industry where transparency and authenticity are difficult to find at the best of times.
Never fear ladies, you'll get your hands on high quality and affordable skincare products if it's the last thing we do.
Feature image:@cadat.store/Instagram