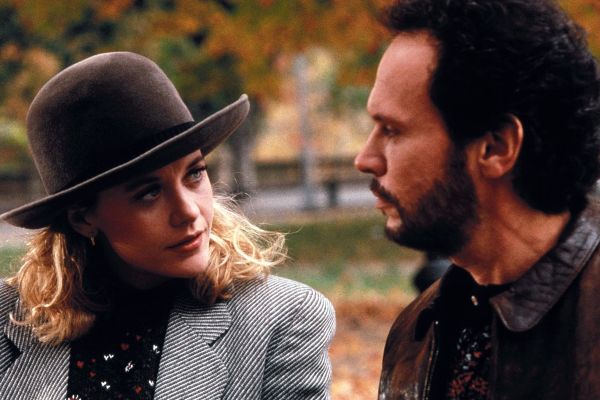 Its's been three decades since we saw Meg Ryan infamously fake an orgasm in a cafe and now the cast of the classic will-they won't-they romcom When Harry Met Sally is celebrating it's milestone 30th anniversary.
The lead actors took to the red carpet alongside their directed Rob Reiner at the TCL Chinese Theatre in Hollywood for the opening night of the TCM Classic Film Festival.
The iconic flick told the story of college graduates Sally Albright and Harry Burns who meet when they have to drive across state together.
The story spans almost 20 years as the two friends grapple with their true feelings for each other.
It was a huge success when it hit cinemas in 1989, grossing over $90 million (£69 million) at the US box office and nabbing an Academy Award nomination for the late Nora Ephron's screenplay.
Rob Reiner has revealed that it wasn't something he expected.
He said, ''You never know. You make a movie and hopefully you like it, and hopefully other people [do too]. You have no idea if it will stand the test of time, and it's kind of cool that it did.''
She told fans at the event: 'It's the kind of music Billy and I knew how to play together the audience.'
Read more: https://metro.co.uk/2019/04/12/meg-ryan-billy-crystal-reunite-30-years-harry-met-sally-special-anniversary-event-9178148/?ito=cbshare
Twitter: https://twitter.com/MetroUK | Facebook: https://www.facebook.com/MetroUK
The movie's longtime appeal is one that keeps brining fans back to watch it again, as well as gaining more with each new generation – not to mention the impeccable supporting cast of Carrie Fisher and Ron Kirby.
Rob continued, ''I think that there are some basic truths about men and women that people connect with, and those kind of things, that dance, that weird dance that men and women do with one another kind of is basic and kind of there all of the time.''
For us, it was the leads chemistry that makes the whole thing work.
Meg agrees saying, ''It's the kind of music Billy and I knew how to play together.''
Well, we're off to watch it for the millionth time – any excuse, right?