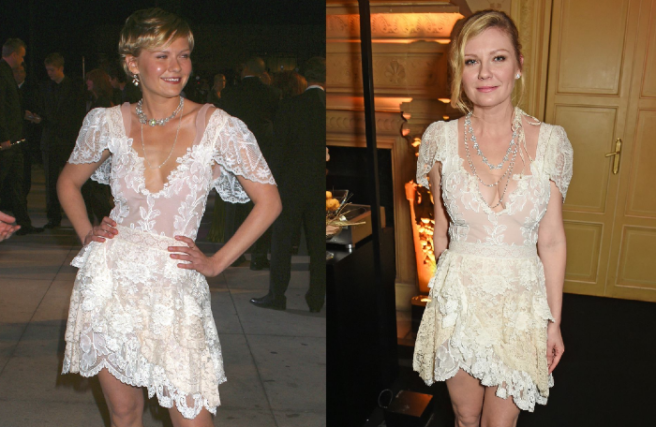 Celebrities have such extensive wardrobes that wearing the same thing twice is probably mathematically improbable.
However, Kirsten Dunst just made the ultimate argument for outfit repeating by recycling a dress at a Chopard party in Paris.
The recently engaged star previously wore the vintage Christian Lacroix applique lace dress in 2004 to the Vanity Fair Oscar's after party, which she attended with then-boyfriend Jake Gyllenhaal.
Thirteen years later, the dress (and Kirsten) look as amazing as ever.
Other celebrities have also taken their most beloved garments out of retirement.
Kiera Knightly wearing her "wedding dress" 3 times isn't a charm, it's sustainable. We hope she wears it 100 more. pic.twitter.com/84LORknQDy

— Lady Clever (@ladycleverblog) December 4, 2013
Kiera Knightly famously wore this petal pink Chanel dress on the red carpet, before re-purposing it five years later to wear as her own wedding dress.
The star then wore it again to another event, this time with an embellished top underneath.
We all remember the teenage fear of not having something new to wear to the disco, but these ladies are clearly well over that.
However, feeling the need to get something new for an event sometimes spills over into adulthood, at the expense of both our bank accounts and our sanity.
Kirsten and Kiera clearly prove that rummaging through your own wardrobe rather than the shop rails can produce absolute gems you'd completely forgotten about.