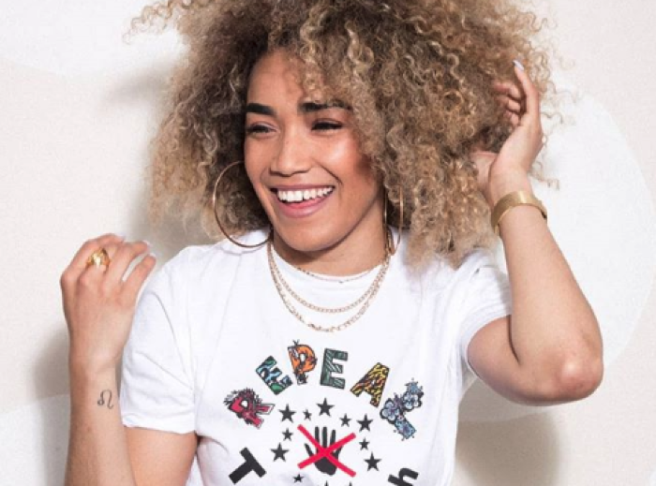 When designer Helen Steele took to the VIP Style Awards red carpet, all eyes were on the 'fashion is repealing' slogan adorning her statement dress.
The dress is one of many designs which will be hosted in The Atrium tomorrow evening, in a benefit for the Together For Yes campaign, the National Civil Society Campaign to remove the Eighth Amendment from the Constitution.
12 of Ireland's most creative minds in fashion have come together to create a 12 piece, one-off couture collection, along with 50 other limited edition pieces per designer.
Helen Steele, Natalie B Coleman, Margaret O'Connor, Chupi, Pearl Reddington, Jill DeBurca, Caoimhe MacNeice, Tissue, Manley, Sphere One, Atrium and Louise Kavanagh are the designers involved.
The 'Fashion is Repealing' collection will feature hats, necklaces, jackets, dresses and tees.
'As the referendum mostly affects women, we wanted to work with the Irish fashion industry to create a visual conversation within an industry primarily absorbed by women,' said The HunReal Issues founder Andrea Horan.
'We worked with the best designers and makers to come up with some of the most powerful responses to the fight for reproductive rights in Ireland.'
'Whoever is lucky enough to end up with these pieces will be getting a piece of fashion history.'
The designers themselves are impassioned by the project.
'The defiant feeling of the boldness of the word repeal in the hard metal just makes you feel and believe that we can do this,' designer Chupi Sweetman said of her design. 'This is our chance.'
All items will be available to buy in Atrium, Powerscourt Centre tomorrow night from 5-7.30pm.