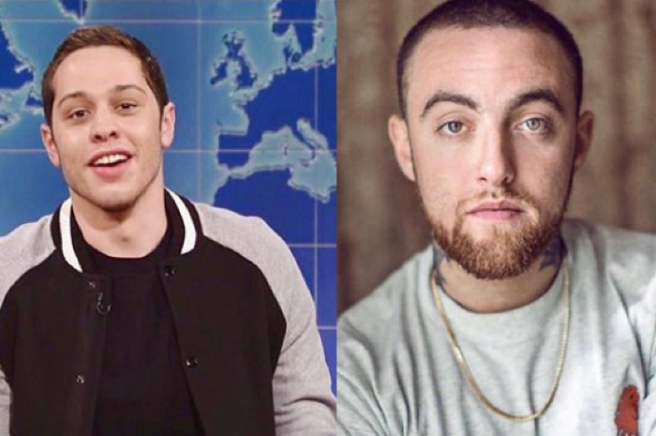 Pete Davidson, comedian and former fiancé of Ariana Grande, has returned to the stand-up circuit and things haven't exactly gone as planned.
He has continued to make appearances on Saturday Night Live, and his shows have gone relatively well all things considered. However, he ran into trouble last night with an insensitive heckler.
During his set at the South Orange Performing Arts Center in New Jersey, the 25-year-old comedian was in the middle of a joke, and said, "My friend died in my apartment," when a fan yelled out "Mac Miller"?
A recording obtained by TMZ hears Davidson immediately halting the show and asking, "Who's that guy? We're getting him out." The room went silent as the SNL star urged the audience to point the heckler out.
He referred to the man who shouted the tasteless gag as a "f*ck-face," before threatening to leave the venue if the heckler wasn't kicked out. "I will not continue until that kid is gone," Davidson said in the clip. "Find him."
His ex-fiancé Ariana Grande dated Mac Miller for years, before splitting with the rapper and he subsequently died of a drug overdose last September.
"I'll leave," Davidson can be heard saying. "So if you want the show continue, call out the person who did it, get him the f*** out. I don't deal with that s**t. This show is just for fun, so I'm not going to have that s**t at my show."
His comments were met by applause after the heckler was kicked out of the venue. Davidson has performed a number of stand-up shows in New York since the start of the year, but clearly has zero time for bullsh*t about his personal life.
Grande split from the 25-year-old in October, and paid tribute to ex-boyfriend Miller on her new album thank u, next and also thanked Davidson for his patience as she dealt with the trauma from Miller's death.
Feature image: Instagram/@petedavidsons/@macmillerdivine