There are some really wonderful things in life – and one of those things is definitely French Toast.
So suffice to say that here at SHEmazing! we were particularly delighted to discover that November 28 – that's today! – is officially National French Toast day.
And what better way to celebrate than whisking some up for dinner?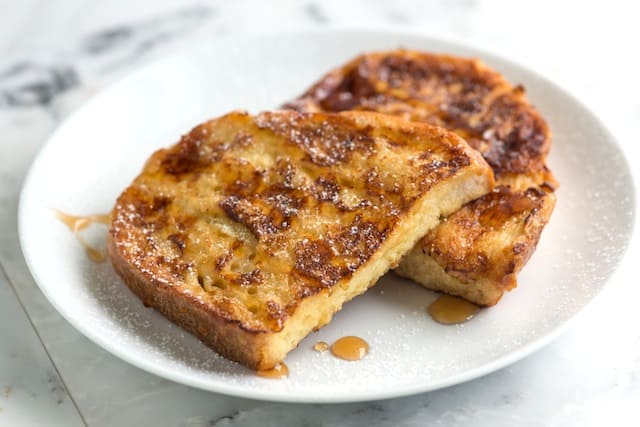 Known to some as eggy bread, gypsy bread, or poor knight's pudding, the modern version is simply just divine in any combination.
Dating back to the 4th century when stale bread was soaked in milk and then egg before being fried, this classic dish is deserving of its national day of appreciation.
Paired with bacon, tomato, or served with some Ballymaloe relish this traditional breakfast delight is simply food heaven.
Quick and easy to whip together, the breakfast delight can be transformed into an anytime wonder by adding mascarpone cheese and maple syrup – and should NOT be limited to just breakfast.
C'est magnifique #FrenchToastDay pic.twitter.com/xkD1DqDeoC

— Toblerone (@Toblerone) November 28, 2016
A few great places to eat French Toast…
Dublin:
Queen of Tarts, Cows Lane
Sister Sadie on Harrington Street
Belfast:
French Village, Botanic Avenue
http://www.frenchvillagebakery.co.uk/
Galway:
Ard Bia at Nimmos, Spanish Arch
Cork:
Liberty Grill, Washington Street
Kilkenny:
Zuni Hotel, Patrick Street
Waterford:
Bishops Palace Café, The Mall
http://www.waterfordtreasures.com//bishops-palace/the-experience/bishops-palace-cafe
Limerick:
The Buttery Kitchen, Bedford Row