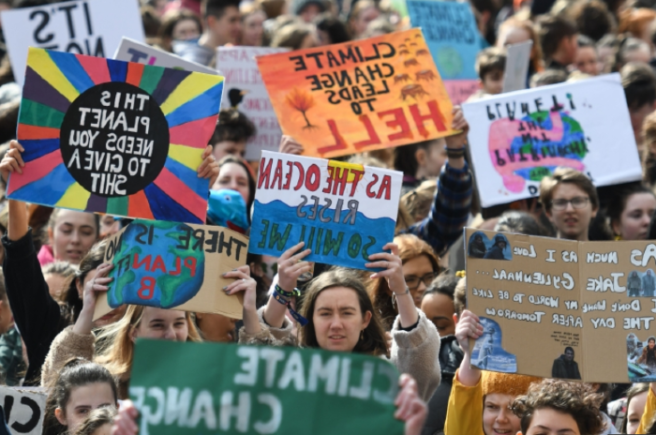 Last night, Ireland became just the SECOND country in the world to declare a climate and biodiversity emergency, after the United Kingdom began the proceedings on May 1.
A Fianna Fáil amendment to the Oireachtas report on Climate Action was accepted by the Opposition parties and Government without a vote, which led to this vital development.
Fine Gael's Hildegarde Naughton, who acts as Chair of the Climate Action Committee praised the vote as "an important statement" but stressed that "now we need action."
Great news from Ireland!! Who is next?
And remember: #ClimateEmergency means leaving fossil fuels in the ground. #ClimateBreakdown #EcologicalBreakdown https://t.co/GTkyhg7Sam

— Greta Thunberg (@GretaThunberg) May 9, 2019
16-year-old climate change activist Greta Thunberg welcomed Ireland' progress, and posed the valuable question to other countries around the world, "Who is next?"
The young Nobel Peace Prize nominee has been pivotal in starting the school strikes around the globe to protest government lack of action on ecological breakdown.
Naughton claimed that Minister for Climate Action Richard Bruton would come back with new proposals soon to the Dáil. The Chair also asserted that she looked forward to working "with all parties and none" to scrutinise them.
Glad Dail Eireann (in unusual circumstances) has just declared a climate & biodiversity emergency & has endorsed the report of the Joint Oireachtas Committee on Climate Action https://t.co/M6d66BfNrq We now must act on the report, with a #GreenNewDeal delivering a #JustTransition pic.twitter.com/z31N5R9D1d

— Eamon Ryan (@EamonRyan) May 9, 2019
Eamon Ryan, leader of the Green Party, said tonight's declaration came under quite"unusual circumstances" after he moved the Fianna Fáil motion into the Dáil without any of their TDs being present in the chamber.
Ryan continued by saying "it will be of little meaning unless we are now willing to act on the recommendations of the Committee."
He vehemently warned that "declaring an emergency means absolutely nothing unless there is action to back it up. That means the Government having to do things they don't want to do".
Deputy Bríd Smith, of Solidarity/People Before Profit, said she was "delighted" with the declaration, but expressed her concern over whether or not the Government will support her Climate Emergency Measures Bill next month.
The Bill seeks to limit oil and gas exploration. Fianna Fáil climate action spokesman Timmy Dooley moved the amendment, but when the vote came before the House it was put forward by Deputy Ryan,
There were only six TDs in the chamber and none of them were from Fianna Fáil, which speaks volumes. The Green Party Leader stated that, "We have declared a climate emergency in our own Irish way."
Ireland has hit the headlines in recent times over our dire attempts to tackle climate change. The nation was ranked the worst in Europe in a report published in December.
The Climate Change Performance Index ranked Ireland 48th out of 56 countries, with a score of 40.84. This is dangerously low, considering the EU average is 60.65.
Taoiseach Leo Varadkar has bluntly referred to Ireland as a "laggard" on the issue, and the country is set to miss emission reduction targets and face significant EU fines as a result.
A Citizens' Assembly will consider the issue of a biodiversity emergency. A United Nations report has only just hit the world, stating that almost one million species are facing extinction because of humankind's damage to the planet.
Sinn Féin's Brian Stanley had also called for a climate emergency to be declared, but there were no Sinn Féin TDs in the Dáil chamber when the amendments were put. The lack of representation from major parties did not go unnoticed.
Feature image: PressFrom