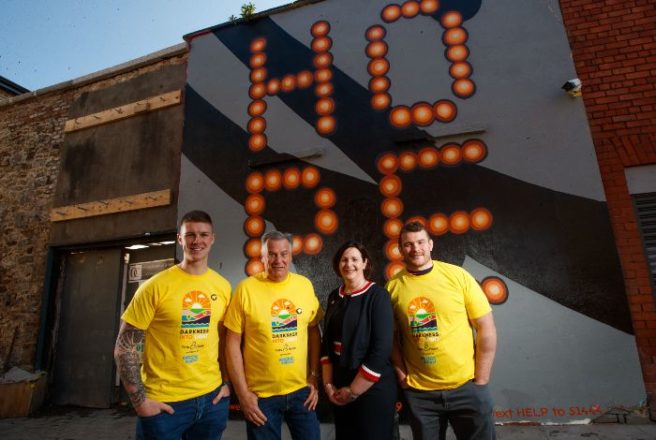 Pieta and Electric Ireland recently unveiled the 'Wall of Hope' – a public work of art created to officially launch Darkness into Light 2019 – the major charity fundraiser that is expected to attract over 250,000 participants this May 11, 2019.
In 2018, Darkness into Light was hosted in over 200 venues across 19 countries and 5 continents. This year, Pieta and Electric Ireland have increased capacity, with additional volunteers and over a quarter of a million people are expected to walk, from darkness into light, on May 11 at 4:15 am. Registration for the walk is now open at www.darknessintolight.ie.
About the Wall of Hope
Located on Dublin's Camden Row, The Wall of Hope is a larger-than-life mural, created by Subset, a group of artists responsible for some of Ireland's most provocative street art. The work signifies the Hope that Darkness Into Light spreads across the globe every year. Using #DIL2019 and #ThePowerOfHope, Pieta are encouraging people to share their messages of Hope in the lead up to the walk on Saturday 11 May and beyond.
About Darkness Into Light
Darkness into Light is organised by Pieta and proudly supported by Electric Ireland since 2013. It is a global movement dedicated to ending suicide and supporting those who engage in self-harm. By walking from Darkness Into Light, participants play an important role in removing the stigma around suicide and self-harm as well as raising vital funds to fight suicide.
The unique event is symbolic of the journey from despair to hope. It begins, in darkness, at 4.15am and continues for 5 kilometers through to dawn. Funds raised from Darkness Into Light help keep Pieta's counselling services free of charge and freely accessible to those in suicidal crisis, people who engage in self-harm, and to those bereaved by suicide; last year, participants raised a massive €6 million through the event.
Pieta has supported over 40,000 people with face to face therapy. Since opening its doors 13 years ago, Pieta has heard painful truths from thousands of people who have come to the organisation at the point of suicidal crisis or actively engaging in self-harm. In 2017, one person a day died by suicide in Ireland and worldwide close to 800,000 people die by suicide every year, which is one person every 40 seconds.
Darkness Into Light is vital for fundraising, for raising awareness and for bringing people together in a spirit of solidarity, comfort and hope. To find your nearest venue and for registration, visit www.darknessintolight.ie