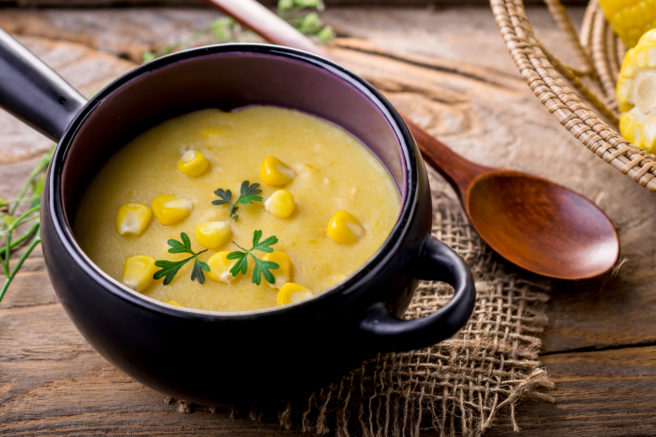 Winter is here and there is one type of food that makes us particularly happy at the moment, the humble bowl of soup.
Filling, healthy, cheap to make, they are the perfect meal when it's freezing outside.
Full of vegetables, high in protein, this hearty soup can also make for a delicious lunch the next day. Give it a go!
Ingredients
100g butter
1 small carrot, finely diced
1 celery stalk, finely diced
1 small onion, finely diced
4 potatoes, diced
1 clove garlic, minced
500ml whole milk
70g flour
1 can sweet corn
400g cooked chicken, shredded
900ml chicken stock
¼ tsp nutmeg
1 tsp fresh thyme
Salt and pepper to taste
Method
1. In a large pot over medium-high heat, melt half the butter. Add the onions and sauté until translucent. Add the carrots, celery and garlic and continue to cook for 3 to 4 minutes. Add the potatoes and chicken stock, and bring to a boil. Reduce heat and simmer for about 20 minutes.
2. While the soup is simmering, melt the remaining butter in a medium sauce pan. Whisk in the flour and cook until golden, about 1 minute. Whisk in the milk and continue to stir until the sauce thickens. Season with salt, pepper and nutmeg.
3. Pour the sauce into the pot with the vegetables. Add the corn and the chicken and cook for a further 5 minutes. Serve with fresh thyme.