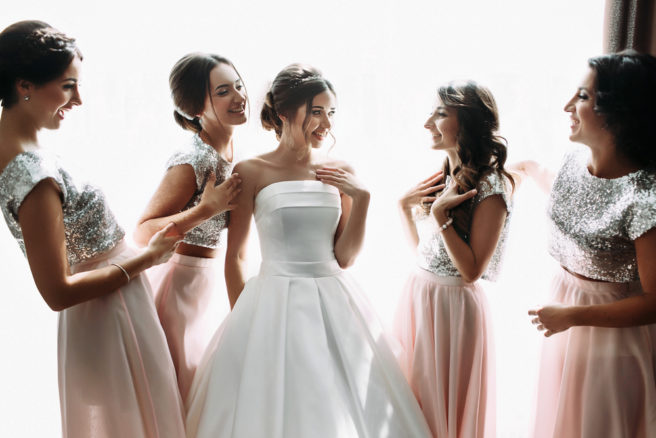 Playing a part in someone else's wedding is a huge honour and for the most part, bridesmaids will do their utmost in order to ensure the bride has the best experience possible.
There's no denying that there's a certain amount of responsibility that comes along with the role. Planning the hen do, going to fittings, putting on a brave face when you're forced to wear a dress that cuts you off in all the wrong places – it's pretty much a package deal.
However, some brides have been known to take their demands a little too far, leaving their wedding party feeling less like friends and more like professional wedding planners with money to burn.
One unfortunate bridesmaid, who called herself Hayley, recently shared her experience on Mamamia.com.
Hayley started off by saying that she was initially "overjoyed" when her friend Caroline asked her to be a part of her wedding, however, her "joy quickly turned to utter despair" when the bride began to obsess over every tiny insignificant detail – right down to the buttonholes for the groomsmen.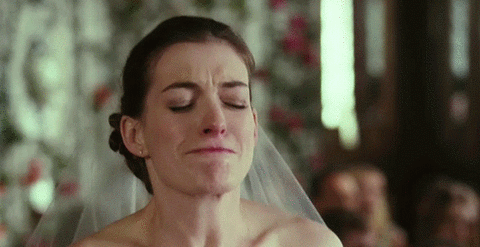 The bridezilla then asked her bridesmaid to complete a excel spreadsheet of cake-maker suggestion, including the pricing, the contact information, flavours and "prestige" level, which she wanted completed later that day.
"Hey Hayley, How's it going?" the first email goes. "I need some cake-maker suggestions by COB [close of business] today please, Jase and I really want to get a wriggle on with this and need the contact details, price brackets, flavours and an idea of how prestigious the vendor is – in a table would be great. Excel is probably best please. Thanks!"
The cheek.
On that particular day, Hayley had been quite busy with work so was unable to complete the list until the following morning. She sent her suggesting to Caroline, apologising for her delay, but the bride wasn't going to let that slide.
"On Saturday morning, I cancelled my breakfast plans, instead researching Tasmanian wedding-cake makers (she'd decided to have a picturesque destination wedding) that might be suitable. I sent it through to her and had a reply almost immediately. "Thanks for this, would've been really helpful to have it yesterday when specified, but I appreciate it.""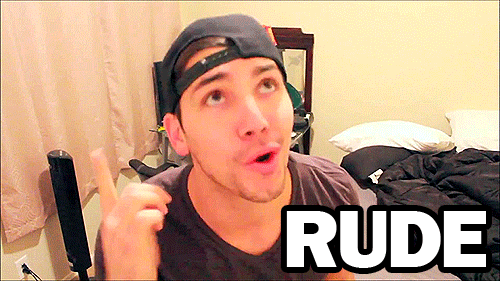 Meanwhile, the bride had insisted that Hayley and her six other bridesmaids go shopping on three consecutive weekends in order to find the perfect wedding gown and bridesmaid dresses.
Caroline's chosen bridesmaid dresses came in at $550 each (around €370) – pocket change when compared to the price of the bridal gown.
She selected a gorgeous designer dress priced at $10,500 (around €7,124), and despite that fact it was twice her budget, the bridesmaids encouraged the bride to "totally splurge" on her big day.
She took their advice and bought the dress, only to later ask that they "pitch in" for her "dream dress."
How could someone even begin to justify this bizarre request? Well, the bride thought the dress would be a sentimental treasure all the bridesmaids would have a part in if they paid for it.
No, really.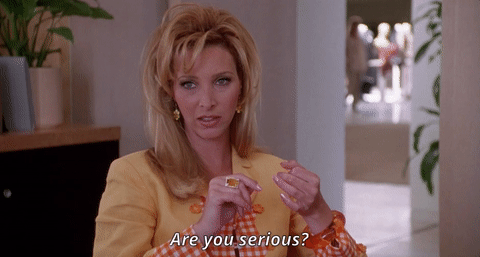 "That night, my inbox pinged again with another of the group emails from Caroline that I'd started to dread," Hayley recalls. "The subject line was "Bridesmaid dress contribution" and it made me break out into a cold sweat. The latest bridal update was a long email outlining how she and Jase were hugely over their bridal budget now that she'd splurged on the dress. That it was 'totally fine if you can't' but she would really love if we could 'pitch in' around AU$150 (£89) each towards her 'dream dress'. That it'd mean so very much to her and would mean that as she walked down the aisle, she'd be wearing something we'd all had a part in."
Hayley went on to explain how she was shocked and outraged by the request, but three of the seven bridesmaids had already agreed to contribute.
Not Hayley though, she's sticking to her guns, saying she may "have to bail on this wedding – and friendship", and to be honest, we wouldn't blame her.