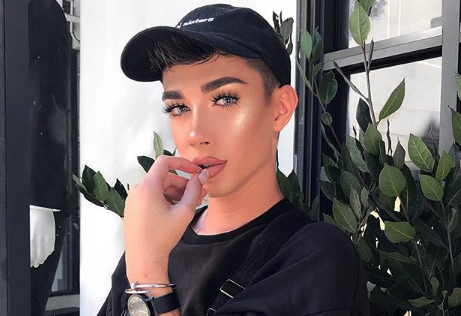 YouTuber James Charles has made a plea to his hardcore fans to cease showing up uninvited to his home.
Charles, who has over 11 million followers on Instagram, a further 2.4 followers on Twitter and an incredible 11.5 million subscribers on YouTube, creates innovative beauty content as a makeup guru and influencer.
Thanks to the no boundaries nature of social media, fans have taken to showing up at Charles' private residence, and the online guru has made a request for privacy via his Twitter.
please stop showing up at my house. i will not hug you, i will not take a photo with you, and i absolutely will not sign your palette. it is extremely disrespectful & makes me feel very unsafe in my own home. respect people's privacy, it's really not that hard.

— James Charles (@jamescharles) December 16, 2018
The makeup artist tweeted to fans that he now feels 'unsafe' in his own home, and finds the actions to be highly disrespectful.
Opinion is divided in the comments section of his tweet.
Many fans sympathise with the YouTuber, and agree that showing up outside someone's house unannounced is completely crossing the line.
'To the people arguing that he chose this life… Almost everyone puts personal info about themselves online. It's considered stalking/harassment when its someone who isn't "famous" but because he has a large following that makes it okay? That's some messed up logic,' one fan wrote in the artist's defence.
However, others have criticised the beauty guru's plea, suggesting that Charles owes every moment to his fans, as they are the ones who allow him the opportunities he has in life thanks to the fact that they follow him. 'They made you who you are else you would be living in a box,' one user wrote.
Others make the simplified claim that if you put yourself out there online, you can expect to sacrifice your privacy in every aspect.
The divisive nature of the response to Charles's request led to the tweet, and it's comment section, to be picked up by a number of media outlets.
absolutely not @DailyMail pic.twitter.com/QvkkZEWeBB

— James Charles (@jamescharles) December 18, 2018
Charles has clapped back at one srticle in particular, who referred to him as 'Kylie Jenner's makeup artist.'
James Charles has collaborated with Kylie Jenner in the past but is an individual creator in his own right – with a resume which includes years of online content creation, brand collaborations, TV appearances and the development of his own makeup palette with brand Morphe.
Feature image: James Charles | Instagram