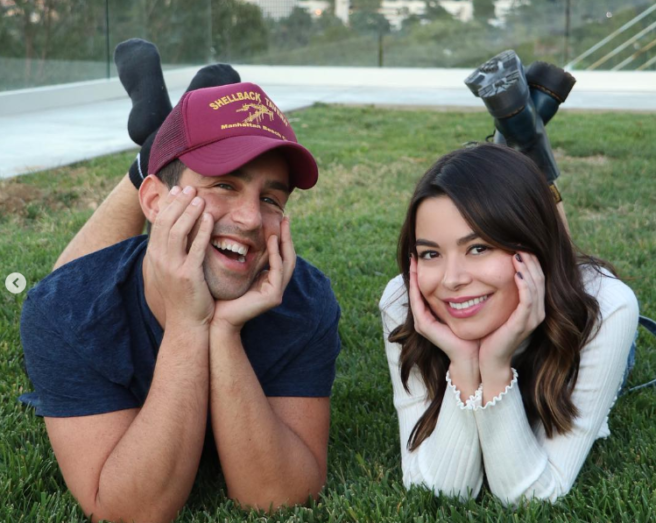 Josh Peck and Miranda Cosgrave just reunited after FOUR YEARS
You might remember them as your favourite brother-sister duo on TV: Josh and Megan.
We obsessed over Megan's evil tricks, and laughed at her and Josh's family dynamic all the way throughout our own childhoods.
You also probably still remember Josh's iconic hushed whisper of "Megan…." whenever she played one of her iconic pranks on his character in the Nickelodeon show Drake and Josh.
This video by Los Angeles vlogger David Dobrik showing the two reuniting will honestly make you explode with nostalgia.
In the video, Dobrik is seen telling Josh Peck that he has a present "from Josh's sister", meaning Megan, of course.
After opening the gift from his little sis, Peck's face was met with a pan full of whipped cream. Clearly, Miranda Cosgrove wasn't finished playing pranks on her gullible Drake & Josh big bro. Never change, Megan, you evil genius.
Miranda Cosgrove and Josh Peck reunite after 4 years pic.twitter.com/1ylfgn7Btx

— DAVID DOBRIK (@DavidDobrik) October 18, 2018
When the two meet, it's clear how delighted they both are to see each other after a whopping four year gap: "This is both of my worlds colliding! You look like a grown-up!" Josh exclaims.
Miranda responds by telling him, "You look good, boob." Classic Megan.
Josh also jokingly told Miranda that he was "sorry I didn't invite you to my wedding. Thank you for not tweeting about it."
There was MAJOR wedding-related drama last year regarding Josh not inviting Drake Bell to his nuptials to long-term girlfriend Paige O'Brien.
Bell was upset he didn't get an invite from his Nickelodeon brother, and tbh so were we.
Josh Peck got married yesterday and Drake Bell just tweeted this my favorite childhood tv show brothers pic.twitter.com/Xqq0AoLuOD

— Amber Leeann Secrest (@AmbySecrest) June 18, 2017
Apparently the drama has since died down, and the two are now getting along nicely. We hope…
Josh and Miranda marked the occasion with matching Instagram snaps, because if there isn't photographic evidence these days, did it really happen?
We hope it doesn't take another four years for their next reunion.
Maybe Drake will pop by next time, he might even chuck in a 'HUG ME, BROTHA!' for good measure?
A girl can dream…
Feature image: Instagram/@mirandacosgrove