It's the weekend gals, and it can only mean one thing: bring all the pancakes, eggs benny and mimosas cause it's brunch time!
If you fancy staying at home and enjoying your food in the comfort of your jammies, we have the recipe you need: these tasty waffles, created by The Happy Pear.
"This is a great recipe that works perfectly for pancakes too. Dave uses this recipe most weekends to make either pancakes or waffles for his daughters – the same batter works great for both.
To make waffles, you will need a waffle iron or waffle maker, but don't let that put you off – we got ours for €20 online and it's a great toy! We like to serve our waffles/pancakes with coconut yoghurt, homemade chocolate spread and berries, with a drizzle of maple syrup – just delish!"
So get cooking and enjoy!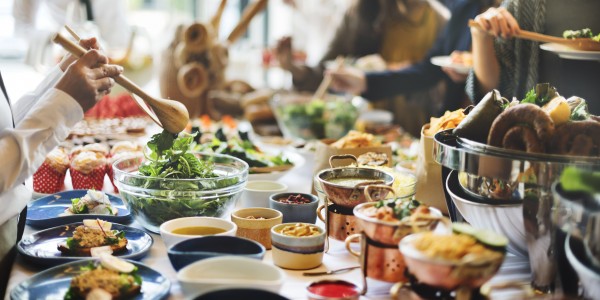 Healthy waffles
Ingredients
250g buckwheat flour/ other flour of choice
2 teaspoons baking powder (1½ teaspoons if using white flour)
1 teaspoon sea salt
3 tablespoons maple syrup
½ a banana or 2 tablespoons ground flax seeds
3 tablespoons almond butter
400ml rice milk
1 teaspoon vanilla extract
Method
1. First step, turn on the waffle iron.
2. To make the batter, whiz all the ingredients together in a blender until smooth.
3. Once the waffle iron is hot, spray it with vegetable oil to prevent the waffles from sticking. Pour in the batter, ensuring that you have added enough to cover the full iron, and leaving a bit of room for the waffles to rise slightly.
4. Cook in the waffle iron until they turn nice and brown. Remove and add toppings of your choice (see intro, and see the photo for other serving ideas).
The Happy Pear twins are back with a new book, packed with affordable, quick and easy veggie options, as well as clever meat-free versions of popular favourites and inspiring advice on how to be healthier!
With a huge section of economical easy dinners that can be rustled up in 15 minutes (Thai golden curry, one-pot creamy mushroom pasta); gorgeous hearty dishes (goulash, Greek summer stew); a selection of plant-based alternatives to family favourites (burgers, hotdogs), AND irresistible treats (summer fruit Bakewell tart, double choc brownie cake), Recipes for Happiness is your new favourite cookbook!