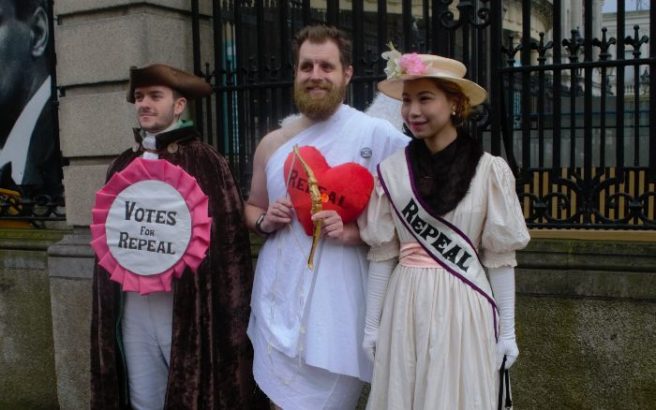 This morning, while those of us in relationships received love nots and cards from our signifiant others, a different kind of Valentines Day card was being delivered to Dáil Éireann.
Time Travellers for Choice, a branch of the Abortion Rights Campaign, donned their historical costumes and presented themselves on Kildare Street with a card highlights that what Irish women want for Valentine's Day, and have wanted for centuries, is the right to choose.
Holding the card emblazoned with an image of two love birds perched side by side, campaigner Lute al Raad cut a striking figure in her Suffragette costume and Repeal sash.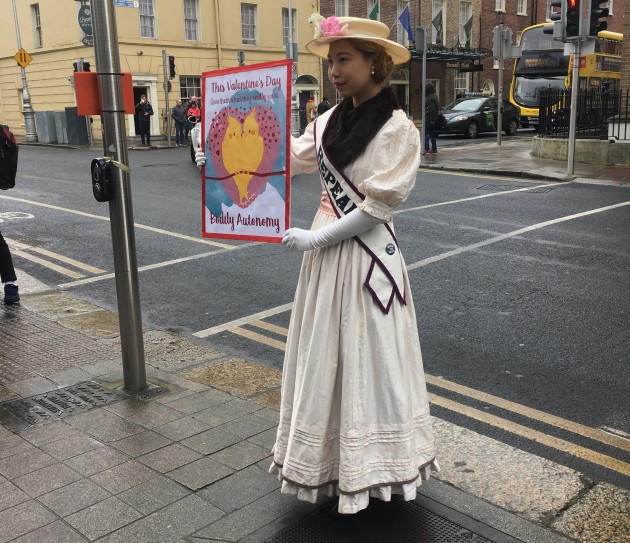 'We are from the Abortion Rights Campaign, and in particular today we are Time Travellers for Choice so we are a project under the Abortion Rights Campaign and we are here to deliver Valentines cards to politicians,' Lute told SHEmazing.
'Its our pro choice Valentines Card, which says "This Valentine's Day, give them what they really want… Bodily Autonomy."'
The demonstration comes as a reminder that 100 years after Irish women gained the right to vote, we are still campaigning for the right to make private, personal decisions about our lives and our health.'
It reminds us that while we may have secured right to vote 100 years ago, we're still centuries behind in the area of abortion rights.
With the referendum looming in may, you can donate to The Abortion Rights Campaign here.