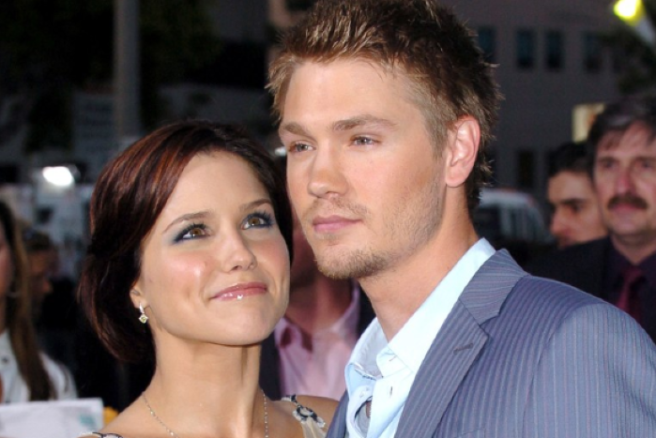 I'm sure we all remember the drama-fest that was One Tree Hill; it was your typical American high school teenage TV show which focused on romance, basketball, jocks, cheerleaders and everything in between.
We were hooked, especially when news broke that Sophia Bush and Chad Michael Murray were engaged, and then subsequently broke up following the much-publicised cheating scandal with Paris Hilton.
In essence, it was discovered fairly quickly that our favourite literate basketball player, Lucas Scott, was trashy IRL.
Sophia Bush, who played Brooke Davis on the show, had an in-depth interview with Dax Shepard on his Armchair Expert podcast and spoke about the controversial break-up.
The 36-year-old actress reflected on her ex-husband and former co-star Chad Michael Murray, and alleges that the One Tree Hill producers exploited their split while the series was still airing on TV.
She commented;
"The reason that I don't talk about it A) is because everyone's been 21 and stupid, but if you're in our job, for some reason, people want to talk to you about like, when you're fully-fledged adults who've done really amazing s— with your lives, they wanna talk to you about the dumb thing you did in college basically."
"Which doesn't make sense to me, 'cause like, in any other realm, if a CEO is having a meeting, no one's gonna ask about the time they went to a kegger in college."
She's here! @SophiaBush is in the attic(t) today!!! @ArmchairExpPod https://t.co/1Vv8Gwck7J pic.twitter.com/8Lt1ppZ96P

— dax shepard (@daxshepard) December 10, 2018
She continued;
"What's complex about this issue for me is that the person who I was 21 and stupid with is also an actor," said Bush, who admitted that she was "a really naive kid."
According to Bush;
"Being a super nerdy kid and suddenly you're on TV and all this stuff is happening and one of the cool people you work with thinks you're awesome, there's really base brain stuff there. I think that for me, it took me a long time to do the kind of inventory you're talking about in the after effect. And I continued to be in a place of work with my ex."