Does anyone remember when Emily Blunt and Michael Bublé were an item?
Well back in 2008 they were, and had been for three years. Emily, 32, has been doing the rounds of late to promote her new film Sicario. She sat down with DJ Howard Stern when he asked her about what really prompted the breakup between the pair.
Now married to John Krasinski, Emily apparently found it very difficult to talk about her past relationship saying: "I don't know. It's complicated."
The host had asked Emily about Michael's alleged cheating.
While Emily maintains that they "had a great time" together and she still loves his family, the cheating rumours were apparently off-limits.
"I never want to talk about it. I can't do it," she added.
Emily and John have been married since 2010 and have a one year old daughter, Hazel. Michael's wife is pregnant with the couple's second child. The couple also have a two-year old son together, Noah.
Aside from discussing her ex-boyfriends, Emily also brought back some memories from her time working on The Devil Wears Prada.
She revealed that one of her most popular lines from the film was actually inspired by a frustrated mom in the supermarket.
"I saw a mother speaking to her child in a supermarket when we were shooting that film.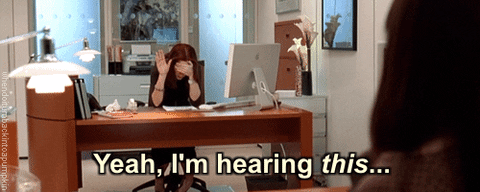 She yelled at her kid and she kind of opened and closed her hand and she goes, 'Yeah, I'm hearing this, and I want to hear this."
The actress added that it is a line that fans will still often quote back to her now, more than 10 years since the film was first released. We're not surprised, it was a pretty amazing moment.