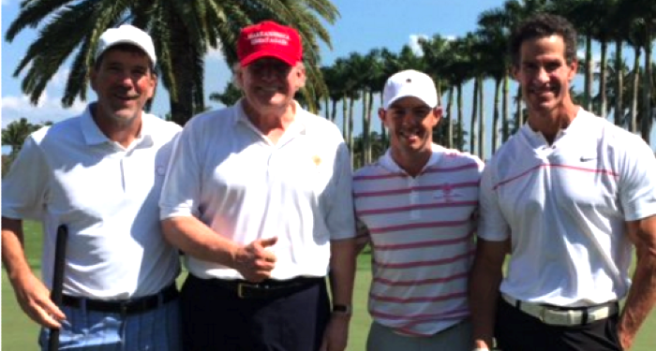 All the fecking lols.
Rory McIlroy decided to take some time our of his, er… downtime, to play a round of golf with controversial president Donald Trump.
The Irish golfer has been out of the game recently after suffering a stress fracture to the ribs – but didn't say no when good 'ol Donnie asked him out.
According to a website called No Laying Up, Rory rode around in a golf cart for the day, and said that the POTUS isn't too bad a golfer for a man of his age.
"He probably shot around 80. He's a decent player for a guy in his 70s."
Of course, Rory's fans were livid on social media, and didn't hide it, either:
Very disappointed in @McIlroyRory for playing golf with Trump. pic.twitter.com/l8mZslDh4H

— Tom Hickey (@1TomHickey) February 20, 2017
Not sure why anybody would be surprised to see Rory McIlroy playing golf with Donald Trump. Trump is basically golf in human form.

— Dave Donnelly (@YeSecondPost) February 20, 2017
Really disappointed in @McIlroyRory for golfing with @realDonaldTrump.

— Leslie Nicholas (@mrnick107) February 20, 2017
Rory mcilroy met donald trump and didnt smack him n the balls..shame on u rory..

— JamesGavaghan (@jamesgavaghan) January 12, 2017
@mikememoli @chrislhayes .@McIlroyRory Rory, please say it ain't so. You do not need the money. Please blink twice if you've been kidnapped.

— Con P (@basinelu) February 20, 2017
Right that's it, Britain you can have him. We don't want him anymore! https://t.co/gAfcVv3wWX

— Hooch (@HeresKellie) February 20, 2017
What did you get yourself into, Rory?!