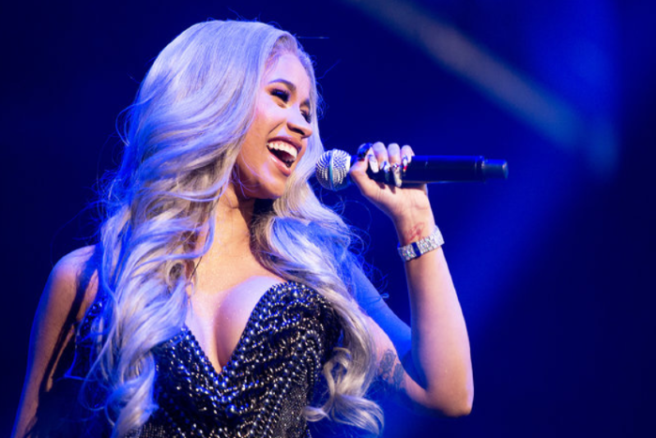 Good morning only to Cardi B.
First of all, let it be said that nobody knows the ins and outs of anyone else's personal relationship, so this opinion feature is purely based off the recent chain of public events involving Cardi and her (*cough* loser) hubby.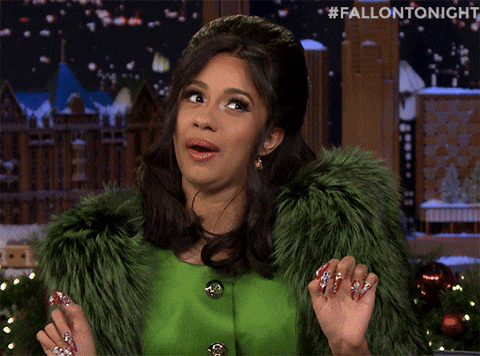 The infamous American rapper has hit the headlines time and time again since her meteoric rise in 2016, for a variety of reasons.
Most recently, it's as a result of her estranged husband and fellow rapper Offset, of hip-hop group Migos.
After a string of alleged affairs and cheating scandals, Cardi announced their separation earlier this month, stating that they "grew out of love."
That was all fine and dandy, until Saturday night, when Offset decided to gate-crash her headline show.
Offset crashes Cardi B's set at @RollingLoud.

The rapper brought out flowers and a cake set up that spelled out "Take Me Back Cardi" on stage. Cardi B was not feeling the gesture and had him and the set up removed. pic.twitter.com/MBh3xUWrls

— Pop Crave (@PopCrave) December 16, 2018
Oh, by the way, this was the FIRST EVER FEMALE headliner show of Rolling Loud in Los Angeles, but he decided to take this moment away from her in order to beg for her forgiveness.
He ruined the moment that was years in the making, so instead of the attention being on the rap star, it was transferred to her estranged husband.
After saying that he loved her and would do whatever it takes to get her back, his embarrassment of Cardi did not result in reunited love. Shocker.
Naturally, he abandoned the stage to scattered boos. Of course, the internet had it's weave snatched, and targeted her ex-husband with (semi-deserved) enraged tweets which only worsened the issue at hand.
This was Cardi's moment. Your FIRST female headliner. And y'all let him steal it and make the narrative about him and his BS instead of being a night of accomplishment for her. Absolute garbage. https://t.co/KKL2mqDMZk

— Simply TC (@BienSur_JeTaime) December 16, 2018
He doesn't need more attention than he's getting, attention is power, and only Cardi deserves empowerment at this time.
Now where in the world could Offset have gotten the not-so-bright idea to interrupt her mid-show to roll out flowers that spelled out the words 'Take Me Back Cardi'?
Maybe, from every rom-com ever?
Where normally the male protagonist does something unforgivable, or at least extremely disrespectful to the female character, and then carries out a grand show of his affection and apologises in public before she gives in and kisses him, cue the credits rolling?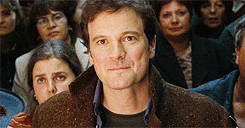 Yes, I'm looking at you, Love Actually.
Most people claim that, by declaring his love for her so publicly and essentially opening himself up to media frenzy, he is profiting and capitalising off their relationship issues.
Problems which he and only he caused by cheating on a rap goddess who has worked incredibly hard to get to where she is now.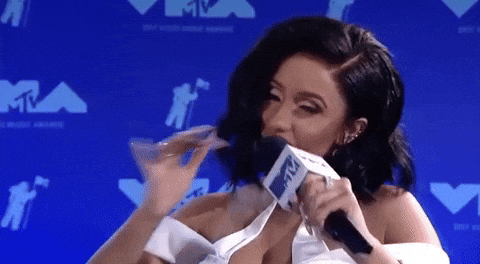 It has also been pointed out that he is emotionally manipulating her by using an audience to sway her into accepting his apology.
Needless to say, Cardi was NOT impressed with his actions. Rolling Loud are also deservedly getting dragged for allowing the whole charade to take place.
Tariq Cherif, co-founder of the festival, has even released a statement to Us Weekly saying:
"Headliners and their teams have full control of the stage and who is allowed on it during their set at Rolling Loud. The festival does not interfere with or influence a headliner's set list. We have never and will never do anything to change a headliner's set."
The big reunion which Offset had hoped for did not happen, but maybe the entire thing was just for publicity sake. If it was, it worked.
He's now firmly the focus of the entertainment media for the next week at least, and then he'll most likely be yesterday's news.
Anyone online who demands that Cardi return to a relationship where she was not being treated as she deserved to be need to called out for this gross error in judgement.
Offset wanted his ego stroked, and stormed into her place of work, calling to mind that absurd episode of Friends where Ross crashed into Rachel's office with a picnic because he felt threatened by a male co-worker.
If the last episode of friends aired today Rachel would've realized that Ross was a toxic person and she would've stayed on the dang plane and gone to Paris to eat croissants and wear berets and have a career as a fashionable independent women. Don't be Rachel ladies.

— milan (@sunnimili) May 6, 2018
Toxic relationships become the centre of the stage, rather than the talent of the women involved. It's as if they aren't allowed to have love and a career.
His obvious display of toxic masculinity squashes any sense of true love, he simply shifted the power towards his side of the net by making himself the victim.
He most likely knew that his show of humiliation wouldn't be met with joy by Cardi, but by putting himself in that position, he now has millions of fans feeling pity for him because of her rejection.
It's a classic tactic done time and time again by people who want to have their cake and eat it too, they never hear the word 'no'.
Offset needs to leave her alone and just let Cardi…B pic.twitter.com/DhoCBloi0O

— Paige (@Paigebarleyyy) December 17, 2018
The entire debacle is problematic for a rake of reasons.
First of all, Cardi has been open in the past about her experiences with domestic abuse, and dating an incarcerated man. Both to escape abusive behaviours such as violence as well as poverty, Cardi B then turned to stripping.
She was in the Bloods gang from the age of sixteen, and in an abusive relationship at just 19. Exotic dancing was her key to success; her videos describing her experiences in the trade racked up millions of views online.
After already suffering at the hands of men she was in relationships with, before building up a HUGELY successful career, watching her allowing herself to be associated with a man who (allegedly…but pretty obviously) cheated on her is painful for her fans.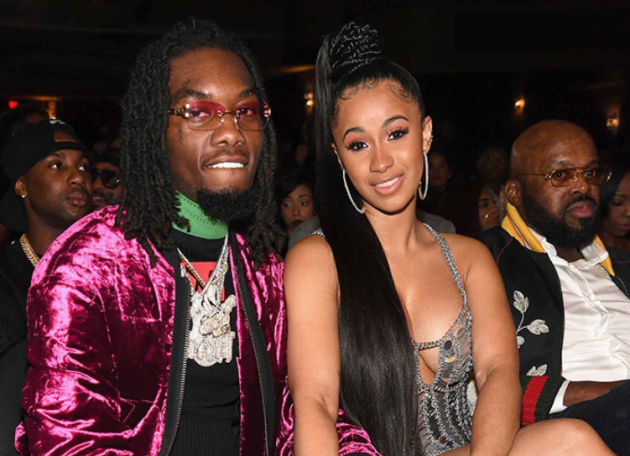 She is a much-loved personality whose music is an emblem of her own fiery energy.
Her music has broken hundreds of records, from SEVEN Grammy nominations, MTV VMA awards, to Billboard Hot 100 accolades such as the longest running female at the top of the charts for Bodak Yellow.
Her official debut album, Invasion of Privacy, has already broken streaming figure records and is Certified Gold in the US. She's also a self-proclaimed feminist who believes in boosting other women, not to mention equality for men and women.
Cardi B on performing at the Grammy's and working with Bruno Mars pic.twitter.com/osi4qQHO2A

— F. (@XXIVkHooligan) April 6, 2018
She is so unapologetic in the rap scene, dominating American charts especially because of how women relate and respond to her.
Her take-no-prisoners Bronx attitude and accent have attracted fascination and fans worldwide.
She is a figure who is far more complex than people give her credit for, and deciding whether or not to find the energy to forgive the father of your child for breaking your heart must be incredibly hard.
CardiB speaks on Offset @iamcardib @OffsetYRN pic.twitter.com/fXWOpaCqlg

— WORLDSTARHIPHOP (@WORLDSTAR) December 16, 2018
The day after all of this drama, the 26-year-old asked her fans to abandon their tirade against her ex, saying;
"I know I see a lot of people bashing me because I'm defending my baby's father, they think I'm gonna get back together with him. I'm not saying that I'm gonna get back together with him, I just don't like that bashing online thing."
She's being the bigger person after having her gig interrupted, suffering infidelity and humiliation as a result of his actions, and yet he thinks he deserves to have her back?
If he actually cared about her at all, he would give her the peace needed to heal from the damage which he has caused, and leave her the hell alone.
Cut off the negativity and toxicity from your life, and you will see how much you are worth. Only you can decide your worth, not some guy who thinks it's okay to cheat on someone as amazing as you.
Cardi doesn't waste her time, she doesn't waste her money, and she certainly shouldn't waste her life on someone like Offset.
Rant over, mic dropped, bodak yellowed.