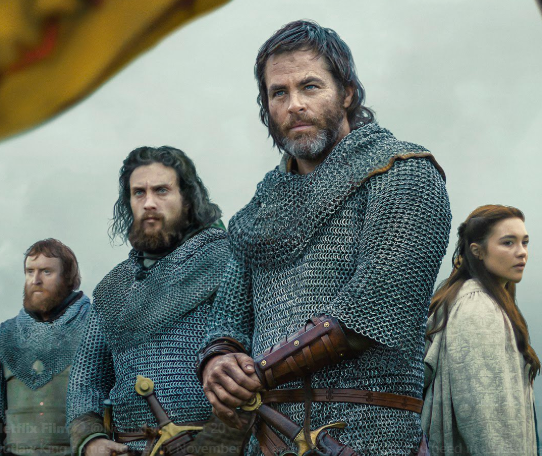 Hollywood actor Chris Pine paid Graham Norton a visit the other day, and boy did he cause a stir, much like his role in the new flick Outlaw King, in which Pine shared more than a little of himself.
Norton, never one to beat around the bush, launched into the talk show by addressing the fan frenzy surrounding the 38-year-old Star Trek actor's role as Robert the Bruce in the new Netflix film.
To put it bluntly, Chris Pine has a scene with FULL FRONTAL NUDITY. Yup, you read that right.
What a time to be alive.
"There's a scene in the film where I bare the full Monty and, yeah, that seemed to get a lot of attention," Pine comments. Attention is one word for it, obsession is another. Fans have lost their minds over his crown jewels, and they aren't afraid to let him know about it either.
Rami Malek and Sally Field were also present as guests on the couch, and they most definitely enjoyed themselves reading the tweets sent in about Chris Pine.
Sally Field, being the hero that she is, schooled Chris Pine on the fact it's been pretty much entirely women who have been baring all for years, hence why the world is freaking out when a man does it.
Sally Field schools Chris Pine on why the world is so fascinated by his penis https://t.co/WsU5bTYU6d

— Metro (@MetroUK) October 20, 2018
While speaking to The Hollywood Reporter earlier, the actor stated that the nudity was necessary to convey that his 14th century character in Outlaw King was still just a living thing underneath it all.
"There's so much beheading in this, and yet people want to talk about my penis," he continued, while at the Toronto Film Festival.
"Underneath the Emperor's clothes is a muling, puking little kid who was once upon a time just rolling around in the mud and a child. The idea that underneath every prime minister, and president, and ruling leader that we give power to is someone that is just an animal…"
I have something to say:

Chris Pine is an anagram of 'Rich Penis'.

That is all. #OutlawKing

— Alex Mullane (@Mullane45) October 19, 2018
We wonder if director David Mackenzie has read some of those tweets? Pine's name actually translates to a vulgar French term for male genitalia, ironic enough as that is.
It seems like realism is what they were going for, but Pine's fans may have missed that notion…
Outlaw King premieres on Netflix on the 9th of November, prepare yourselves ladies and gentlemen.
Feature image: Twitter/@NetflixFilm