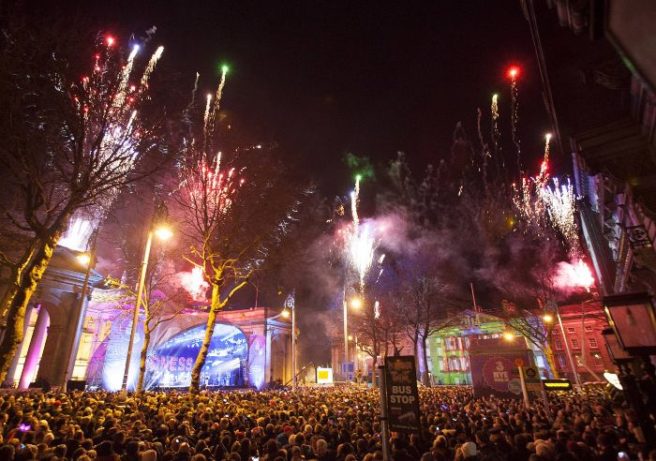 Halloween is offish over so we can now talk about Christmas and New Years without sounded crazy, right?
Now in its seventh year, New Years Festival Dublin [NYF Dublin] is back again to help us ring in 2019 with three unreal events – a dazzling lighting spectacle called Liffey Lights Midnight Moment and 3Countdown Concert with amazing music acts that will give you a New Years Eve night to remember.
We can officially reveal that the headlining act is none other than the fab Gavin James.
Supporting acts are Hudson Taylor, Inhaler and Wild Youth.
Seriously, whatta line-up.
Gavin James is taking to the stage and we are buzzing about the news – as is he.
''I'm very excited,'' he says. His album is, Only Ticket Home, came out last week and it has already climbed to the top of the charts.
He's also getting ready to go back to touring; something he loves.
''I've got a little scooter that I use now while Im on tour to get around. I''m trying to get friends that come with me do it too – we can be a little scooter gang.''
Speaking of NYE, what's in store for him in 2019?
''World tour time. We're heading to London, Europe, then America which will take me right into festival season, it's pretty full on.''
His NYF show also might be a little different to the previous ones – all thanks to his brand new Les Paul guitar.
While acoustic guitar is his thing, he just might mix it up – so you might hear some electric guitar courtesy of Mr Gavin James come NYE.
Also on the bill is Irish folk/Americana duo Hudson Taylor made up of brothers Harry and Alfie.
Harry admits that NYE is generally a "divisive" night but one that him and his brother love, mainly because they go out busking.
Plus "its good to do the cheesy countdown thing."
We couldn't agree more.
Fresh from supporting Hozier, the Hudson Taylor lads might be gearing up for their own headline tour in the new year. So what better time to see them then to close out 2018?
To make it even better, their younger sister Halli will join them on stage and she herself has just released her first single, "Fukc Fear" so she is one to watch – exciting stuff.
Also playing will be Dublin four-piece Inhaler, who might be fresh from their Leaving Cert but they are more than ready to put on an amazing show.
So what should you expect from them?
"A lot of new songs. We only have two songs on Spotify and they came out like two years ago and our music's changed since then."
Their influences include a lot of 1980 's references – think Depeche Mode. While they've been playing together since 2016, 2019 looks set to be the year where they are gonna be releasing new music and a brand new single.
With amazing artists like these playing at NYF, you know where you gotta be on the 31st of December – see you there.
Tickets for NYF Dublin are 29.90 including booking fee and will be on sale from Monday November 5th qt 9am from Ticketmaster outlets nationwide and www.ticketmaster.ie.