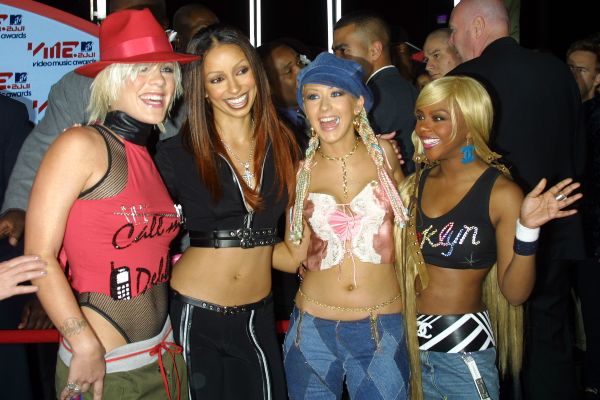 Halloween might be done and dusted but a genuine chill of fear rippled through me when I read these next three words: low rise jeans.
I mean, if you're JLo circa 2002 then by all means, don't let my frustration and seething envy stand in your way.
But if you're like the majority of us and feel quite at home in your go-to high-waisted jeans, then this may not be the best news.
We have a lot to thank the early 2000's for – Paris and Nicole's iconic friendship, Britney being Britney and Xtina's Stripped album.
Low rise jeans or bumsters are what we try and forget ever happened in the early 2000's – but word is that they are making a comeback.
The runways are our glimpse into the fashion world an the trends to come and they have been showing a lot of low slung jeans – were talking full on hip-grazing designs.
It was Alyx's Matthew Williams June fashion show where a few trousers dipped suspiciously below the navel.
And in the women's wear shows? Chanel, Courrèges, Versace followed suit, to name only a few.
What is happening?!
It seems that people are feeling our pain about this re-apparoaching trend, just look at some of these gas tweets.
i didnt dress up for halloween but i did wear low rise jeans so that was scary enough

— rich gay mac (@hotdad23) November 1, 2018
Low rise jeans should be illegal

— em (@p_opped) October 31, 2018
the spookiest thing I've done today is wear low rise jeans

— Phia (@phiazuniga) October 31, 2018
If you wear low rise jeans or drink sparkling water put yourself in the bin

— StephanieCurran (@StephCurran97) October 31, 2018
So, why is it happening?
Is a nostalgia thing? Are we so wrapped up in our obsession of times gone by that were looking at ugly trends through rose-tinted glasses?
Are we romanticising Britney's 2001 "Slave 4 U" snakeskin thong worn over leather pants?
Or Christina Aguilera's lace-up low riders on the Stripped album cover?
I think we just might be tbh.
And speaking for myself, Ill be sticking to my trusty mom jeans.
Flattering? Maybe not? Do I freeze my arse off? I do not.
And that's a win in my book, so you can keep your low-risers, thank you very much.