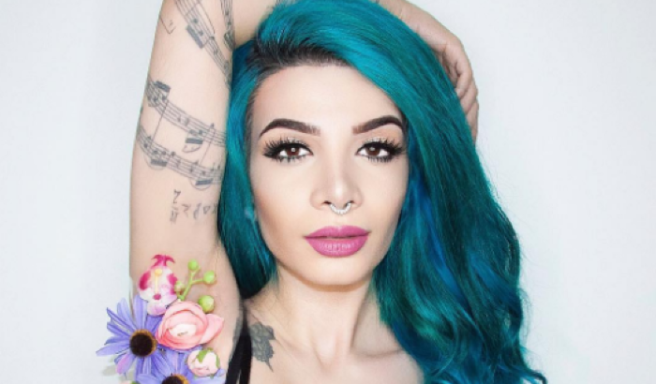 Instagram makeup challenges usually involve creating an entire look using glitter, contouring with household objects or creating an a full face look using only Kylie Cosmetics, but there's a new makeup challenge with a difference doing the rounds.
Beauty Youtuber Li'l Moonchild, otherwise known as Yasaman Gheidi is using makeup to raise awareness about mental illnesses in an attempt to lessen the stigma surrounding mental disorders.
The 27-year-old makeup maven uploaded a touching video to YouTube in which she utilises makeup as a means to portray the emotions she's privately been struggling with.
The blogger uploaded the look to Instagram and shared her story, describing how she attended a work dinner party, but was forced to leave after suffering a massive panic and anxiety attack.
The following day, Yasaman was concerned that her co-workers would have noticed her swift disappearance and questioned it.
"Why did I have to be ashamed and lie about my anxiety attack? So many wonderful and amazing people suffer from the same mental illnesses that I do on a daily basis."
"Why can't we just talk about it openly? This experience along with many others inspired my 'Inside Out Challenge'"
The challenge, which takes it's name from Disney Pixar film Inside Out, which showcases the tumultuous emotions felt by young people, encouraged people to show what they or others feel on the inside through the external medium of makeup.
The challenge has been picked up by hundreds of budding MUAs, some of which have been brave enough to also share their stories of anxiety, depression and self esteem issues.
"Together we CAN chip away at this stigma, we CAN make a difference, and we CAN make the world a kinder place," says Yasaman.
"Just by doing this challenge you are MAKING A DIFFERENCE!" said Yasaman in an Instagram post.
"You are not only starting an important dialogue about mental health, but you are also telling your friends and family that they are not alone in their struggles, and most importantly you are proving to yourself than you are one incredibly BRAVE person."
And with 62% of Irish people admitting that they would not want others knowing if they themselves had a mental health problem, and up to 65% of people saying that being treated for a mental health problem is viewed by Irish society as a sign of failure, it's definitely a makeup challenge with meaning.