It's notoriously a time to really let your hair down surrounded by your closest friends: yes, hen and stag weekends have something of a reputation for debauchery and drunken antics.
But Ronan Keating and Storm Uechtritz are definitely maintaining low-key celebrations in advance of their Monday nuptials in Scotland.
In fact, it is the former Boyzone singer's teenage children who have been tasked with organising the events.
For Storm, that means getting the Eurostar from London to Paris with a dozen friends and family of varying ages. The group, who donned pink Storm's hen lanyards, were this morning all gifted with chic monogrammed Burberry scarves.
They also brought on board with them champagne or lemonade and brunch in wicker baskets from London's famed and oh-so posh Fortnum & Mason.
In one Instagram snap, the bride-to-be was eager to thank her stepdaughter-in-waiting, Missy Keating, 14, for organising the particulars. Also visible in the same image is younger sis Ali Keating, nine.
Meanwhile, back in Ireland, Ronan's own bash was underway with thanks to Jack, his 16-year-old son. In an online post, the musician thanked his eldest child – as well as Storm – for pulling together the pre-wedding celebrations.
The accompanying snap also showed lines of brightly-coloured cooler pouches, each with a sticker naming the reciprocate, as well as a row of white gift bags. "The stage is set," the Dubliner said, playfully adding: "This could get messy."
Ronan, 38, popped the question to his 34-year-old Australian girlfriend of three years in April during a tropical trip to Thailand. "We've been together a few years now and knew we wanted to spend the rest of our lives together.
"I felt it was the right time," he said in a Hello! magazine interview announcing their intention to marry.
Mr Keating also helped design her ring: a stunning oval-shaped diamond set in a diamond-encrusted band.
His divorce to Yvonne Connolly, 41, whom he married in 1999, was finalised earlier this year following their 2011 split.
Ronan's friend Brian McFadden had previously warned that the stag-do "won't be wild". He added in conversation with the Daily Star: "Ronan's stag do will be all red wine and cigars."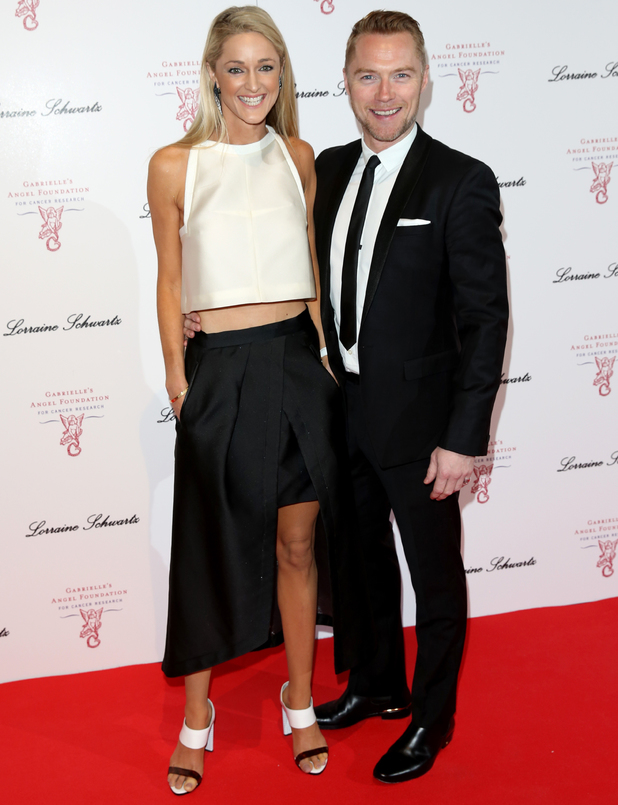 Following their lightning-quick engagement, Ronan and Storm will marry on Monday at the luxurious Archfield House estate and golf club in East Lothian.
She has also been married once before – to finance chief Tim Iver.