Friday is here my ladies, and this weekend we plan on RELAXING as much as we can.
This means face masks, hot baths and Netflix all night long. We may also indulge in a takeaway, because #treatyourself.
Anyway, if you are also planning a weekend of pampering, then you may be interested in Hello Kiytty BATH BOMBS.
That's because beauty brand Fragrant Jewels has teamed up with Sanrio to gift us with Hello Kitty candles and bath bombs.
The brand announced their new collaboration on Instagram: "ATTN: Jewels – The wait is over! We thought it was time for someone to say hello… Hello Kitty, that is! We've teamed up with @sanrio and the @hellokitty team to bring YOU our most EXCLUSIVE bath bomb, candle, and ring collection yet."
SO.EXCITING.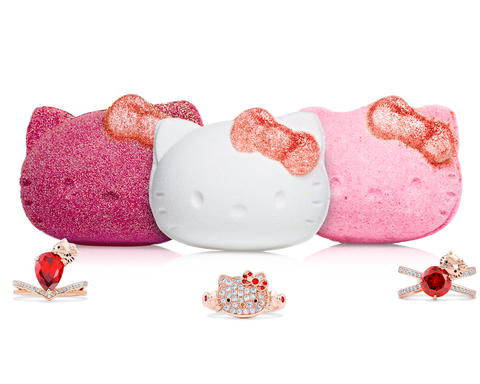 The bath bombs come in a set of three, and are so pink and sparkly, we can hardly take it!
Oh, and the set also contains three super adorable rings, to get your accessory game on POINT!
You can also get a special bath bomb AND candle set, for the ultimate pamper sesh.
Both the trio of bath bombs and the candle/bath bomb combo will set you back $42.95 each. Not too bad.
Are you into this?