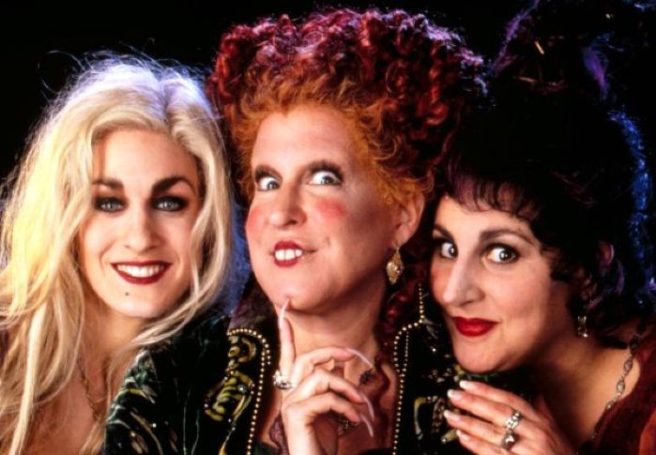 It's October, witches!
Halloween is here so this calls for late-night horror films and endless bags of buttered popcorn, and we have got you covered.
Here are 10 Halloween movies you NEED to binge on tonight:
1. Hocus Pocus
It's officially FALL and that means…I can officially watch #HocusPocus pic.twitter.com/qEFZq5xPdl

— Michelle (@AFriendToBorrow) September 22, 2018
If you haven't seen this Halloween classic, then did you even have a childhood? This is a must-see and annual tradition for most. Three witches, family ties, spells gone wrong – this film is the perfect thing to put on for a throwback, girls' night.
Plus, in honour of its 25th anniversary, AMC theatres will be showing it from October 26th-31st. So you and your friends can dress up and see it on the big screen.
2. The Addams Family
"Normal is an illusion. What's normal for the spider is chaos for the fly."
― Morticia Addams #TheAddamsFamily #Morticia pic.twitter.com/vgcUjdKOIO

— London Clarke (@londonclarke2) September 26, 2018
I've never found such a strange family so relatable to my own. But the dark and twisted humour in this iconic film will have you in bits, as you find yourself comparing the character's outlandish antics to your own sibling relationships.
Tip: Wednesday is a super easy, last-minute costume to throw together if you are in a jam.
3. The Strangers
Watch The Strangers #PreyAtNight now on @Xfinity and get the Blu-ray this Tuesday! pic.twitter.com/fVQSIoQui9

— The Strangers (@TheStrangers) June 9, 2018
This film is for those looking for a proper scare. As one of the most realistic frightening movies I've seen, this haunted getaway is one you will need to recover from afterwards. Masked strangers, brutal torture, and a terrifying escape attempt will keep you on the edge of your seat.
There is nothing scarier than happy masks.
4. Practical Magic
#practicalmagic
Favorite Halloween movie pic.twitter.com/q6QCz7QQPu

— Adrianna Schuh (@ForLoveandBooks) September 23, 2018
For something more light-hearted, Practical Magic is a romantic comedy that follows the lives of two sisters, both witches, as they discover romance and cover up a mysterious death. Starring Sandra Bullock and Nicole Kidman, it explores just how powerful magic can be.
It's a great sister film. Even though the two girls are so different, they will always have each others' backs.
5. Disturbia
This Teen Choice Award winner will shatter any trust you have in your neighbours. Shia LaBeouf is the boy next door in the psychological thriller. After seeing his neighbour exhibiting odd behaviour, he becomes convinced that he's a serial killer.
But is he right? And is this mystery too dangerous to solve?
6. The Rocky Horror Picture Show
Nell Campbell, Patricia Quinn and Tim Curry #bts of #therockyhorrorpictureshow – 1974 #rockyhorror pic.twitter.com/ZeR8q9Ur2T

— Mick Rock (@TheRealMickRock) January 31, 2018
Tim Curry kills it as a cross-dressing scientist in this absurd and brilliant musical. An innocent couple stumble upon his mansion in a storm where they're exposed to crazy characters that will have you singing along the entire way.
Warning: This movie is one of my favourites of all time, and it will become your new obsession.
7. Nightmare Before Christmas
October 1st has me like… #Halloween #MondayMotivation #NightmareBeforeChristmas #Disney pic.twitter.com/9HHhNL1WBe

— Breezy Weekes (@BreezyWeekes) October 1, 2018
Tim Burton has done it again with this animated, disturbing classic. Creepy and inventive, the film unlocks an entire underworld and charts its interaction with our own. The Halloween-Christmas crossover is the perfect compromise for fans of both holidays.
The Disney musical is so catchy, you won't be able to get the film's tunes out of your head.
8. The Conjuring
2. #TheConjuring (2013) — The starter of the horror cinematic universe that almost all of us are interested in by now. The OG Conjuring is still scary and introduced us to a new wave of horror in the 21st century. pic.twitter.com/Zu8RFp2Spl

— zach (@hestzach) October 2, 2018
This terrifying thriller explores the supernatural realm and just how threatening it can be. In the 1970s, paranormal investigators are summoned to an excluded farmhouse to see if there is an explanation for recent and strange occurrences.
Bordering different dimensions, they invite demons to tell their stories and leave the family they're haunting alone.
9. Halloweentown
Halloween has arrived!! Watching #Halloweentown to kick-off the month! pic.twitter.com/7yzbzyfCEz

— Cody Warren (@WarrenCody) October 2, 2018
A little girl's dream comes true when she discovers she is a witch on her thirteenth birthday. She loves her grandma's town – full of all kinds of Halloween characters. But in this Harry Potter-esque adventure, she must find a way to save the muggle world.
The film was a childhood classic and will give you all the feels.
10. Get Out
Side note: could be considered a documentary in 2018 America. #GetOut #1LineMovieReviews pic.twitter.com/C8vwqrC35p

— 1 Line Movie Reviews (@onelineMR) September 29, 2018
Saving the best for last, this thrilling mystery has won many awards including the Academy Award for best screenplay and was given 99 percent on Rotten Tomatoes. Just when you think you've figured it out, an unexpected turns await around the next corner in this wild film.
Get Out explores the depths of racism in society in a sick and twisted fashion.
So, make sure to give our top scary picks a watch to get into the Halloween spirit and have a witchin' weekend.