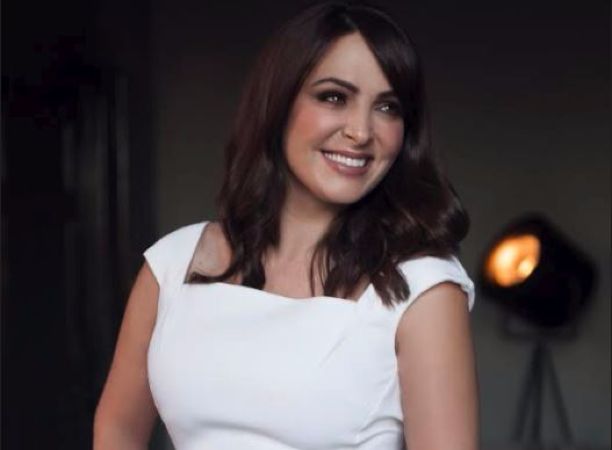 As the only television anchor to have worked on all four of Ireland's terrestrial channels, Gráinne Seoige is perhaps one of the best known faces in Irish broadcasting.
Cutting her teeth on TnaG – Ireland's newly launched Irish language channel – back in 1996, the Galway-native spent two years at the station before ultimately moving on to anchor shows on TV3, Sky News Ireland and RTÉ.
With more than 20 years' experience in television and broadcasting under her belt, Gráinne decided to branch out somewhat with the launch of a bespoke diamond business last year.
Grace Diamonds, born of the broadcaster's interest in the process of creating custom-made jewellery, has been met with much enthusiasm both in South Africa and Ireland.
As part of our Ladies Who Launch series, Gráinne sat down with SHEmazing to talk rings, reception and running her own business.
Gráinne, who announced her engagement to South African business man in 2014, explains that this personal milestone ultimately became the catalyst for the development of Grace Diamonds.
"Leon popping the question led us down the path to having my engagement ring custom made in South Africa," she says.
"The fun of that process, being part of the design and making of the ring as well as Leon also being so involved and thoughtful about it meant I have an amazing connection to my ring to this day."
Grainne, who made the decision to train with the Gemalogical Institute, was keen to share her passion and enthusiasm for the process, saying: "That journey made me think I'd love to help other people have that same experience."
Having trialled Grace Diamonds in South Africa before launching it in Ireland, the mum-of-one saw the benefit of immersing herself in every aspect of her business.
"Getting to work with clients in South Africa and go through the entire sales and manufacturing process, meeting clients for the first time to the ring going on the finger was fantastic," she explains.
"If you are opening a new business, any and all practical knowledge and learning you can absorb is definitely a great addition. "
While undoubtedly best known for her lengthy and successful career as a broadcaster, the public's reaction to Gráinne's new endeavour has been wholly positive.
"The reaction has been so lovely – it's a joyful business," she says.
And when it comes to juggling broadcasting and business, how does she manage?
"I haven't actually moved completely from broadcasting either. I combine the two like many other women in broadcasting today, so no I didn't feel any pressure," she insists.
"I think my background in communications is invaluable in chatting to people and reading what they want."
Like any businesswoman, Gráinne is aware that few businesses in their infancy runs on rails, but she has encountered few obstacles since the birth of Grace Diamonds.
"Being an online business, you are completely dependent on that running smoothly. There a were a few little hiccups with emails, but we got it sorted the minute we became aware of it. And thankfully that's been it!" she explains.
"Yes it's an round-the-clock job whether getting back to clients or planning ahead. I don't think I try to anticipate issues, but we are always looking at ways to improve our systems and also how to add to our offering."
Reflecting on the people who approach Grace Diamonds with the intention of investing, Gráinne explains that there is no typical customer.
"Since the beginning, we've had from couples in their 20s commissioning their engagement rings to more mature couples or ladies celebrating milestones like anniversaries or retirements also designing with us the piece they've always wanted."
And is the day-to-day as glamorous as one might expect in the running of a diamond-based company?
"Diamonds are beautiful – every time I open a brief and this loose diamond is winking up at me and I know it's the right one for a client it just puts a big smile on my face.
"As well as that when a couple you've worked with to create their perfect ring finally gets it and it's even more than they imagined their sheer joy rubs off on you. There is great job satisfaction in that," Gráinne says.
While the reaction to Grace Diamonds has been undoubtedly positive, Gráinne admits that the verge in career path didn't come without its reservations.
And yet, her decision to pursue a passion and learn from the process is something she cannot recommend highly enough.
"Yes, leaving your comfort zone is scary but if you believe in yourself, get some good support on board to cheer you on and challenge you, and you prepare and do your research, you can do it."