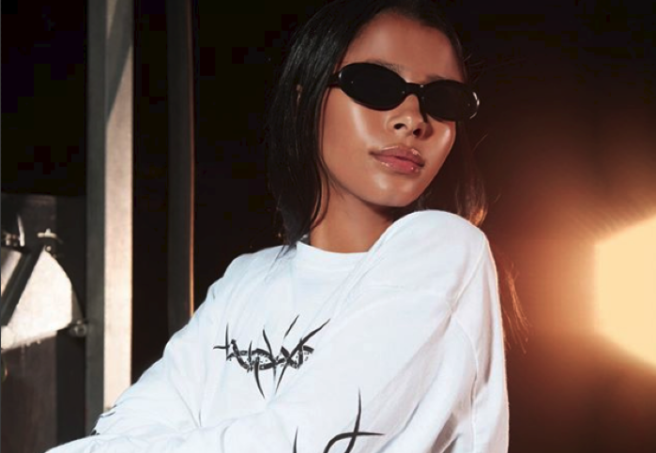 In a world where it seems like some people are incapable of having an independent thought, the internet is here to expose those who plagiarise the work of others.
Forever 21 is currently facing criticism, after a recent collaboration with designer Sami Miro was called out for alleged similarities to the work of another.
Designer Betsy Johnson is the creative mastermind behind Freckled Ace, an independent, edgy fashion line which has taken over Instagram.
However, the designer recently took to the social media platform, to share that she feels that her fashion concepts have been allegedly ripped off by the major fast fashion house.
Forever 21 just revealed their anticipated collaboration with designer Sami Miro, and Betsy took major issue with some of the design elements in the line.
The uber-cool collection features sports luxe designs with a recurring barbed wire motif.
'I contacted sami miro in June to gift her some pieces from @freckledace , she accepted. I was very excited to see her in the collection,' said Betsy in an Instagram post.
'However @samimiro new collection with @forever21 is at the very least very similar.'
'After calling for a boycott of the collaboration and contacting Sami and forever 21 I have been ignored, blocked and critics comments have been removed.'
'I'm calling for a boycott. @freckledace is founded on ethical production and female empowerment to them be assimilated in a fast fashion context by someone I looked up to and sent me clothing to is disappointing to say the least.'
Betsy also shared evidence of her conversations with Sami in the screenshots.
The accounts of both F21 and Sami Miro have been bombarded with the comment 'boycott,' on many of their images.
'I see this ALL the time with larger companies ripping off smaller independent businesses ideas. It's so fucking unfair they have literally not a spec of originality or creativity in a whole team of people so they choose to steal ideas instead and it's not on one bit,' reads one comment.
The collection, called For The Lost, is no longer available on the F21 website, so perhaps the fashion giant is looking into the accusations.
Feature image: Forever 21 / Instagram