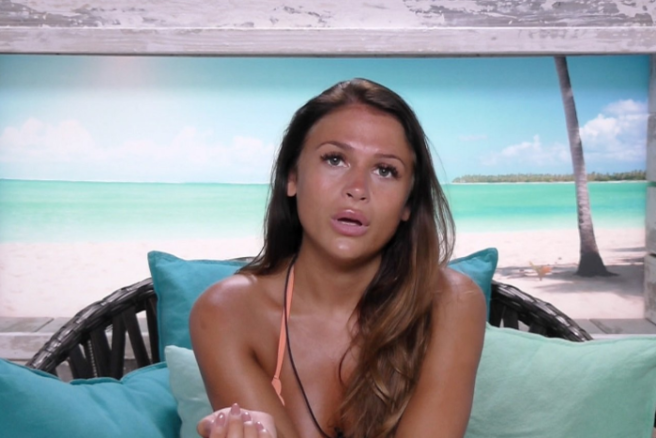 If Love Island didn't get juicy enough last night with four contestants waving bye-bye – by the sounds of it tonight is even better.
As we bid farewell to Adam, Darylle, Alex and Ellie, we gear up for an explosive row between Ellie and Georgia.
In last night's teaser, we saw them at odds with each other – however, we didn't expect this.
Me laying in bed tonight wondering why Ellie is annoyed with Georgia #LoveIsland pic.twitter.com/6Omr9VRVuJ

— Love Island Reactions (@LoveIsIandUK) July 5, 2018
Today The Mirror reports that the women, who haven't really interacted much, had to be SEPARATED after their bust-up.
To be honest, we were surprised they were fighting at all, but now we are dying to know why.
The short clip at the end of last night's show sees the pair shouting at each other before Georgia tells Ellie to "f*cking pipe down" and storms off , while Ellie follows her.
First look… I get Dani is looking out for Georgia but maybe for once she should have pulled Georgia up on it.. It wasn't loyal. Ellie is in the right. #LoveIsland

— nic (@Itsnic_xx) July 6, 2018
If that isn't enough, Love Island has given us a sneak peak of tonight's drama and the villa is on meltdown.
Supposedly, Laura has found out about Georgia's cheeky kiss. UGH OH.
FIRST LOOK: Laura finds out about Georgia's kiss with Jack, and the girls ERUPT
The villa goes into meltdown, tonight at 9pm. #LoveIsland pic.twitter.com/X41Sdi8Ber

— Love Island (@LoveIsland) July 6, 2018
So perhaps that is the reason why the two are feuding.
We don't know, but we won't be missing tonight's episode!