The Eiffel Tower is one of the most iconic monuments in the world.
The architecture and breathtaking views make it into something that should be on everyone's bucket list, but how about taking those views in while travelling at 55m/h… on a rope?
Yes, dare devils, you can now zipline off the Eiffel Tower, and we don't know whether to be frightened or excited.
Conde Nast Traveller has reported that for a limited time only you can zipline down the Parisian statue for absolutely free.
Why for free, you ask? Well, the stunt, called Le Perrier Smash, is set up to promote the French Open.
If you're up for it, you'll travel up the tower until you reach 375 feet.
You'll then have a harness put on you, so your only job is to jump off and fly high at 55m/h (the same speed of a tennis serve, FYI).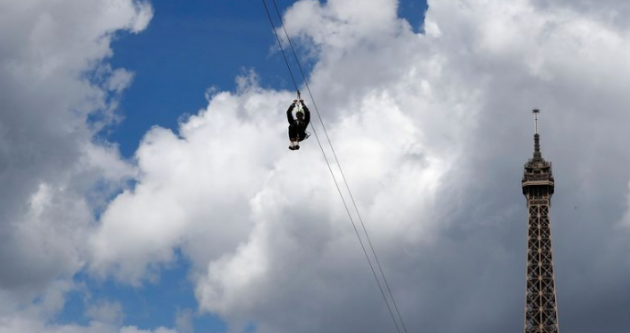 While flying, you'll travel across the Champs de Mars and land at L'Ecole Militaire.
The attraction opened yesterday and will remain open until June 11.
And if you're a bit too scared to hop on board, there's a virtual version which will leave your feet planted firmly on the ground.