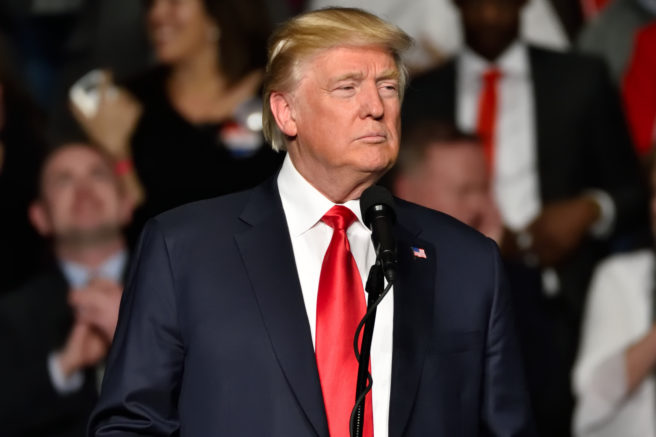 The folk behind Cards Against Humanity are so much more than a foul-mouthed, albeit hilarious, party game creators.
Never one to shy away form its political views, the company often uses publicity stunts to highlight a range of societal issues including consumer culture and pink-tax – but this latest effort might just be our favourite yet.
According to the official website, CAH have purchased a plot of vacant land right on the US-Mexico border, in an attempt to spoil Donald Trump's party and prevent him from completing the controversial wall designed to separate the two countries.
"We've purchased a plot of vacant land on the border and retained a law firm specialising in eminent domain to make it as time-consuming and expensive as possible for the wall to get built," the statement reads.
For the project (which is now sold-out), customers were asked to donate $15 in return for "six America-saving surprises," including a map of the land, a certificate of the company's promise to fight the wall and some new cards.
As expected, the anti-Trump Twitter population has thrown its full support behind the cause.
The cards against humanity holiday promotion FAQ is the best thing I've seen in a long time pic.twitter.com/dTJeTZr9iB

— kate cockerham (@realkate) November 14, 2017
Cards Against Humanity is attempting to stop President Trump's wall. They bought land on the U.S.-Mexico border and hired an eminent domain attorney. pic.twitter.com/qT0fVe6aZ3

— AJ+ (@ajplus) November 14, 2017
Cards Against Humanity, in spite of its name, has been doing good things in a mischievous way for years. This game makes a great gift and is lots of fun at parties. Please support them! https://t.co/b1P47YUYUn

— Black Widow 2018 (@natasharesists) November 15, 2017
Y'all know the drinking card game Cards Against Humanity. Well it's reported that they bought a section of the US Border so trump can't really build the wall. Lmao savage AF pic.twitter.com/kzltUnRJD8

— A (@aflynesseffect) November 15, 2017
Me on my way to buy a cards against humanity game pic.twitter.com/0tYZ50ybFN

— D (@dianap710) November 15, 2017