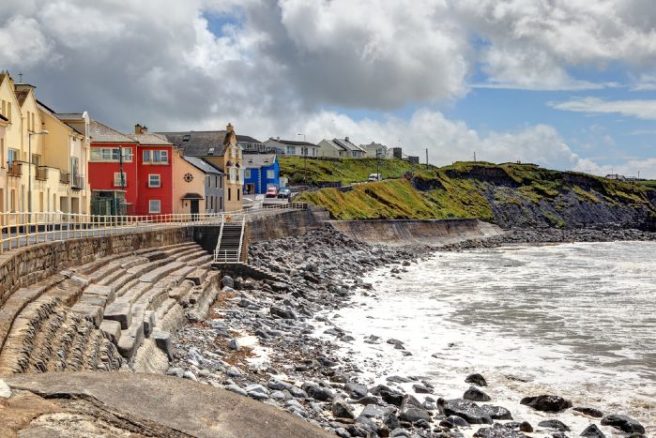 While many of us are busy saving the pennies for a flight to Thailand, or packing our bags for another city break, we often turn a blind eye to the amazing holiday destination dotted around this little island of ours.
Sure, a drive to Tramore might induce a deep-rooted flashback from that one family trip when it lashed rain for six days straight and you and your brother vowed to never speak to each other again, but hey, it's time to forget about the past and make some new memories.
First stop – Lahinch.
Located on the northwest coast of Clare, the small seaside town has made a name for itself as one of Ireland's top tourist destinations – and here's why. .
1. It's a surfer's paradise
OK, so it's not exactly Bondi Beach, but ask any water-sports type and they'll tell you that the waves off the Clare coast are some of the best in the world.
Whether you're a seasoned surfer, or a complete beginner, there are a plenty of instructors offering lessons and board rental for reasonable prices.
But don't worry if surfing isn't your thing, there are plenty of other ways to experience the Atlantic coast, like kayaking and guided beach tours.
2. It's full of mouth-watering restaurants
While the seaside town is packed of restaurants and cafés offering delectable dishes, there happens to be one particular eatery that's close to our hearts.
Serving a mix of foods from around the world, Randaddy's on Lahinch Beach Front is a firm favourite with local and tourists alike.
The owner, Randy is Canadian and travels the world learning different food styles to bring them back to the restaurant – and with that kind of dedicated, it's no wonder the food is so bloody delicious!
3. The landscape is simply stunning
Load you mates into the Micra, stick on your ultimate 90s playlist, and take a drive along the Atlantic coast.
Soak in the breath-taking ocean views, make your geography teacher proud with a trip to the Burren, or spend an afternoon exploring the Cliffs of Moher.
Whatever way you choose to spend the day, you can be sure you'll be doing it in some of the most beautiful surroundings the country has to offer.
4. It's pretty much the mecca of trad sessions
While you may not qualify as a tourist per se, there's no reason why you can't immerse yourself in the local culture.
There's nothing like a bit of a sing-song to ignite a bit of national pride, and with regular sessions taking place all year round, you'll be surprised at how few drinks it takes you start belting out the chorus of The Auld Triangle.
Check out Danny Mac's where the bodhráns are banging every Thursday and Sunday night from 9:30pm.
5. It's got some of the country's most breath-taking walking trails
OK, hear us out – you're not going on a relaxing weekend away to walk the legs off yourself, but maybe this will will change your mind.
Starting in Lahinch, walkers can embark on a coastal trail along a dismantled railway line, leading all the way to Kilrush.
The entire thing is about 45 km long – and while we'd like to think we'd be well able, we've got to think realistically.
Instead, we recommend talking the same trail to Spanish Point – a breezy (and far more achievable) 13 km.